Tower of London ** (1962, Vincent Price, Michael Pate, Joan Freeman, Robert Brown) – Classic Movie Review 4439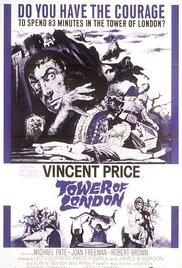 Director Roger Corman's typically cost-cutting and cheerful 1962 remake of the 1939 film Tower of London this time stars Vincent Price, who has a grand old time as Richard of Gloucester who kills those in his way to become King Richard III. Price is promoted to King from playing the Duke of Clarence in the original.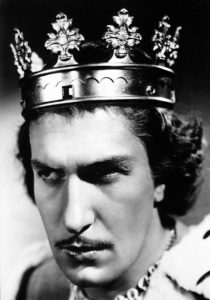 Though there are some aspects of the movie that are undeniably entertaining, some poor sets and some weak supporting performances hold it back. Price apart, Corman has not got the exciting cast of the original to work with.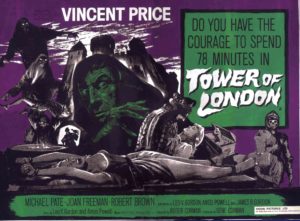 [Spoiler alert] Apart from the title, historical setting and characters, as well as elements from the plots of Shakespeare's play Richard III, the fictionalised story has otherwise no further connection with the 1939 film. In the new storyline, Richard of Gloucester is made guardian of the late King Edward IV's young sons, the two English princes, Edward V and the younger Prince Richard, whom he murders in the Tower. He goes mad, kills his wife and is murdered himself in turn.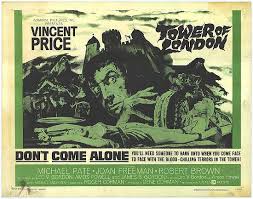 Despite the exciting historical murder story, this is an often rather vapid and empty costume drama-horror thriller. It is far from an improvement on the original and is not even in the colour that the subject and the film-making era both seem to demand.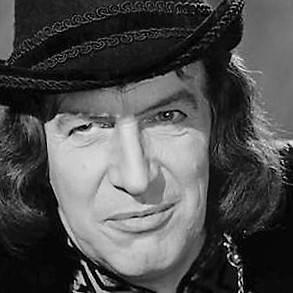 The great Gothic tale goes for precious little in a script by Leo V Gordon, F Amos Powell and James B Gordon [aka Robert E Kent] that does not seem to know quite what to do for the best. Maybe part of the problem s that it was filmed in 15 days, though that is typical of Corman. Francis Coppola was dialogue director.
'I think it suffered from the lack of colour,' reflects Corman. 'It was of the Edgar Allan Poe style, but, again, I found myself working on a movie with a weak script.'
Also in the cast are Michael Pate, Joan Freeman, Robert Brown, Justice Watson, Sarah Salby, Richard Macaulay, Bruce Gordon, Sandra Knight, Joan Camden, Eugene Martin [Mazzola], Richard Hale, Donald Losby and Sara Taft.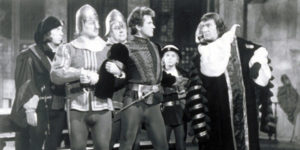 The film was produced by Edward Small Productions with a $200,000 budget, which was high for a Corman movie of this period. Small was rightly impressed by Corman's Poe film adaptations and pitched him the idea of filming a Richard III story.
© Derek Winnert 2016 Classic Movie Review 4439
Check out more reviews on http://derekwinnert.com