Totally F***ed Up **** (1993, James Duval) – Classic Movie Review 1039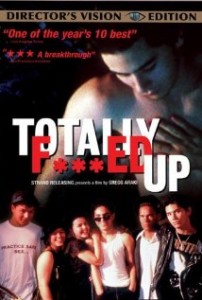 Writer-cinematographer-producer-director Gregg Araki's 1993 movie focuses on a gang of half a dozen gay and lesbian teenagers living in Los Angeles who are totally fed up and f***ed up outcasts. It's not their fault. Their parents kicked them out, they're broke and bored, their lovers cheat on them and they're harassed by gay bashers.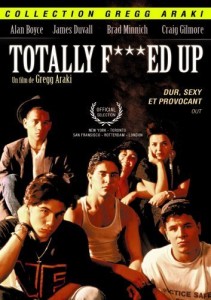 This involving, inventive, in-your-face 90s New Queer Cinema movement outing is made by the director of The Living End (1992). Like all his films, it's sexy and provocative, with a sharp, hard edge.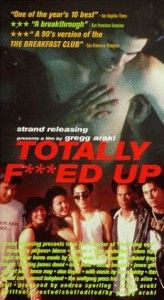 Totally F***ed Up is a spirited, stylish low-budget flick, motored with plenty of rage, with an excellent star performance from James Duval as the suicidal Andy, who gives the film its title.
Roko Belic, Susan Behshid, Jesse Gill, Gilbert Luna, Lance May are the other main cast members.
Totally F***ed Up is the start of Araki's Teenage Apocalypse Trilogy that continues with The Doom Generation and Nowhere.
http://derekwinnert.com/the-living-end-1992-mike-dytri-craig-gilmore-classic-movie-review-1527/
http://derekwinnert.com/the-doom-generation-1995-gregg-araki-classic-film-review-1040/
http://derekwinnert.com/nowhere-1997-gregg-araki-classic-film-review-1041/
© Derek Winnert 2014 Classic Movie Review 1039
Check out more reviews on http://derekwinnert.com/