Top Hat ***** (1935, Fred Astaire, Ginger Rogers, Edward Everett Horton, Helen Broderick, Eric Blore, Erik Rhodes) – Classic Movie Review 55

Along with Swing Time (1936), this 1935 gem is quite simply the Fred Astaire-Ginger Rogers musical par excellence, capturing and distilling all their effervescence and sheer brilliance, both on and off the dance floor.
They may not have liked each other that much, but in their ten movies together they formed the best dance partnership on screen ever, and were stupendous as a screen acting duo, exhibiting the kind of perfect chemistry that comes from tip-top talent, and the most practised, precision-tooled skill.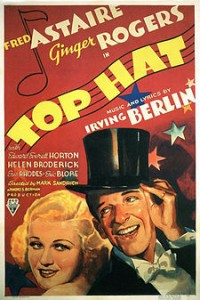 Astaire stars as American dancer Jerry Travers, who comes to the UK and falls for the cute and lovely English model Dale Tremont (Rogers) who's infuriated by him when he performs new dance steps at his hotel in the room above her at night. The Hollywood-made studio film sees him pursuing her from a back-projected London to an art-deco fantasy Venice to the accompaniment of Irving Berlin's marvellous 11 evergreen tunes, including 'Cheek to Cheek', 'Isn't This a Lovely Day', 'No Strings', and 'Top Hat, White Tie and Tails'.
It's all effortlessly carried along by the merest whiff of a plot where Rogers mistakes the prim and proper Astaire for his camp and fussy producer, Horace Hardwick (Edward Everett Horton). Fortunately, it doesn't need a plot, it's got Fred and Ginger and Berlin tunes.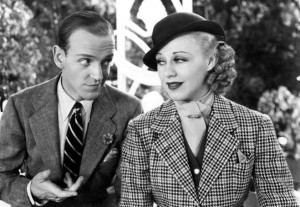 With five dance numbers to perform, the two stars just dance and perform divinely and the RKO Studio stock company comedy support gang is seen on top, funny form, too, particularly Edward Everett Horton, Helen Broderick, Eric Blore and Erik Rhodes. Lucille Ball and Dennis O'Keefe are in there too somewhere.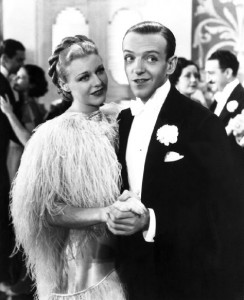 Mark Sandrich directs attentively and skilfully. We must applaud as well Hermes Pan's tireless, inventive choreography (especially in 'The Piccolino' sequence that seems to go enchantingly on for ever but actually runs two minutes and was filmed in one take), which he worked on with Astaire. And not forget the stunning deco sets designed by Van Nest Polglase and Carroll Clark: there's a whole canal built in the studio! Who needs to go to Venice or London when you can see them in Top Hat?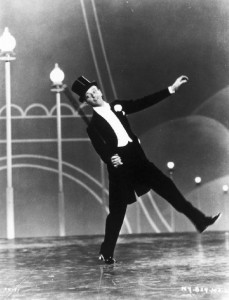 Rhodes's stereotypical Italian character Alberto Beddini understandably offended the Italians: Mussolini didn't see the joke and banned the movie. The original source play is by Alexander Farago and Aladar Laszlo. After pre-release cutting prompted by critical previews where audiences got restless, the film runs a still-lengthy 101 minutes but other versions are cut to 99, 93 and 78 minutes (the 1953 re-release).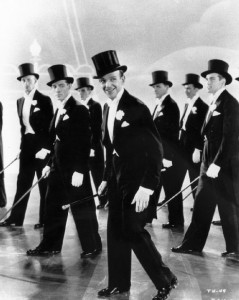 Second at the worldwide box-office in 1935, it was Astaire and Rogers' most successful picture. Though Swing Time arguably has a finer set of dances and Easter Parade is Astaire's most successful film, Top Hat remains the stars' best-known movie. It's the fourth movie of their ten film dancing partnership.
Sandrich, who directed five of the partnership's musicals, was originally a physicist and devised blueprints for every scene, showing exactly where the cameras and the actors were. He died of heart disease on , aged only 43.
http://derekwinnert.com/swing-time-1936-astaire-rogers-classic-film-review-936/
http://derekwinnert.com/easter-parade-1948-fred-astaire-judy-garland-ann-miller-classic-film-review-1116/
© Derek Winnert 2013 Classic Movie Review 55
Check out more reviews on http://derekwinnert.com/