Tonight for Sure ** (1962, Karl Schanzer, Don Kenney, Marli Renfro) – Classic Movie Review 4737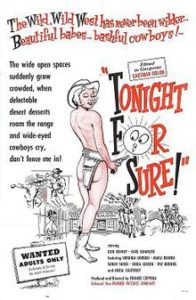 Francis Ford Coppola's first film, made when he was 23, is a 1962 sexploitation Western softcore comedy, co-written with Jerry Shaffer, set in August 1961 on the Sunset Strip, Tonight for Sure stars Karl Schanzer and Don Kenney, and features Electra, Exotica, Laura Cornell, Karla Lee and Sue Martin. It won the Adult Film Association of America's 1977 award for Best Adult Film of 1961-65.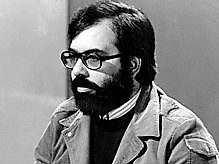 On the Sunset Strip, unkempt desert miner Samuel 'Sam' Hill (Kenney) and city dandy Benjamin 'Ben' Jabowski (Schanzer) enter The Harem Club, home of the most beautiful girls in burlesque, before the show starts, and wire the electrical box to blow at midnight. As they drink, Sam tells of a partner driven mad by visions of naked women in the sagebrush and Ben tells a tale of trying to rid his neighbourhood of a pin-up studio.
Ben: 'Shameful!'
Sam: 'Yeah! Uh, shall we watch?'
It includes footage from Coppola's sexploitation short The Peeper and from an unfinished Western set in a nudist colony.
Coppola shot the film in a motel room in two days and slept there after filming each day.
Jack Hill is director of photography and the music is composed by Carmine Coppola.
It runs  cut version.
So the maker of The Godfather and Apocalypse Now started off in the Adult Film industry! For sure, he might like to forget this one, or maybe not, just own it.
© Derek Winnert 2016 Classic Movie Review 4737
Check out more reviews on http://derekwinnert.com