Tom's Midnight Garden ***½ (1999, Greta Scacchi, James Wilby, Joan Plowright, Florence Hoath, Nigel Le Vaillant, , David Bradley, Liz Smith) – Classic Movie Review 1842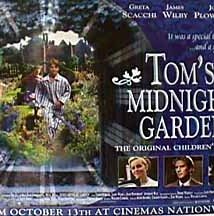 Anthony Way stars as Tom Long, a 1950s teenager, sent to live with his childless Aunt Gwen (Greta Scacchi) and Uncle Alan (James Wilby) to avoid contact with his sick brother.
Shortly after his arrival, Tom finds that each night at midnight the huge grandfather clock in the downstairs hall strikes 13. This is a cue for the dingy, cluttered backyard to transform itself into a verdant garden, complete with an 1880s playmate, Hatty (Florence Hoath), a lonely orphan.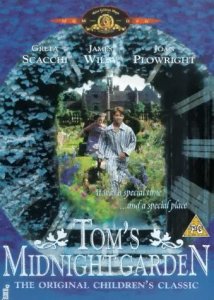 An excellent, terribly English classic children's time-warp fantasy story, based on the novel by Philippa Pearce, springs to life with appealing acting from an ideal cast and lively handling by writer-director Willard Carroll.
Nigel Le Vaillant plays Tom as an adult. Joan Plowright (as Mrs Bartholomew), Caroline Carver, David Bradley, Arlene Cockburn, Liz Smith (as Mrs Willows), Tom Bowles, Rory Jennings and Stuart Piper are also in the cast.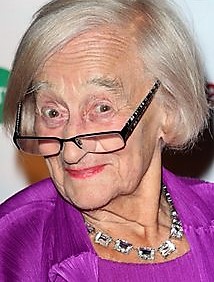 RIP lovely Liz Smith, who died on 24 December 2016, aged 95.
© Derek Winnert 2014 Classic Movie Review 1842
Check out more reviews on http://derekwinnert.com/