To the Wonder ***½ (2012, Ben Affleck, Olga Kurylenko, Javier Bardem) – Classic Movie Review 3850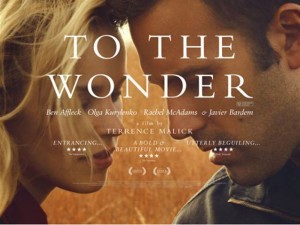 Roger Ebert's final film review is of his three and a half star romantic drama from director Terrence Malick and starring Ben Affleck, Olga Kurylenko, Rachel McAdams, and Javier Bardem. It is a heady and haunting mystic-minded meditation on romantic love and religious faith, with a love triangle story allegedly inspired in part by Malick's life. Acting is not really required but the four principals are very effective in it anyway.
RIP Roger Ebert, America's best-known and most successful movie critic, the first – and for long only – movie critic to win a Pulitzer Prize, who died of cancer on 4 April 2013, aged 70. It is fitting that the last Ebert review filed is a good one, a thumbs up from him.
Ebert said if he were trapped on a deserted island with only one film to watch it would be Citizen Kane (1941) and considered GoodFellas (1990) the best mob movie ever made. His favourite actor was Robert Mitchum.
He said I Spit on Your Grave (1978) was the worst movie he saw, then called its 2010 remake worse. He he considered The Passion of the Christ (2004) 'the most violent film I've ever seen'.
In 2005, he received a star on the Hollywood Walk of Fame.
(In 2003, Stephen Hunter of the Washington Post became the second movie critic to win a Pulitzer Prize.)
© Derek Winnert 2016 Classic Movie Review 3850
Check out more reviews on http://derekwinnert.com