To Please a Lady *** (1950, Clark Gable, Barbara Stanwyck, Adolphe Menjou, Roland Winters, Will Geer) – Classic Movie Review 4972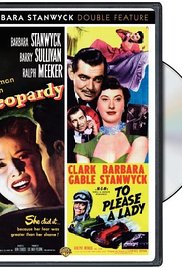 'MGM's thrill-a-minute romance of a daredevil and a darling!'
Producer-director Clarence Brown's 1950 romantic comedy adventure drama teams Clark Gable with Barbara Stanwyck, and the star power of these two big charmers maybe just past their prime is still the reason to watch this humble, clichéd but entertaining film about reporter Regina Forbes (Stanwyck) dogging racing driver Mike Brannan (Gable). It is in the creaky but fun category.
Today it would be called stalking but, as it is 1950, Mike is naturally more pleased than offended by what Regina is up to.
Adolphe Menjou as Regina's assistant Gregg, Roland Winters as unscrupulous businessman Dwight Barrington, another of Regina's targets, and Will Geer are a help too, though there is a surprisingly rather tatty production for a big MGM movie. But how did all these A-list people get into something as routine as this?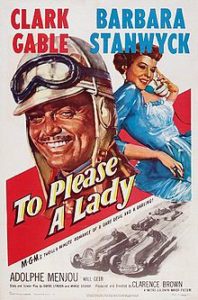 The air of tiredness and cheapness certainly damages it, but Stanwyck and Gable still compel a great deal of respect, attention and admiration of course. They are a likeable, formibable duo here, sharing attractive screen chemistry, and the film may be routine but it is still engaging. For a bit of realism, the racing climax was filmed at the Indianapolis Motor Speedway.
Also in the cast are Emory Parnell, Frank Jenks, William C McGraw, Lela Bliss, Helen Spring, Bill Hickman, Lew Smith, Ted Husing, William Newell, Erville Alderson, Henry Banks, Hal K Dawson, Marcel de la Brosse, Dominic Distarce, Bess Flowers, Cay Forrester, Byron Foulger, John Gallaudet, Joe Garson, Cecil Green, Tom Hanlon, Jerry Hausner, Harry Hayden, Holmes Herbert, Al Hill, Frank Hyers, Arthur M Loew Jr, Jack McGrath, John McGuire, Carlotta Monti, Ernest Ohman, Anne O'Neal, Johnnie Parsons, Lee Phelps, Jean Ransome, Marilyn Rich, Tim Ryan, Dick Simmons, Johnny Tolan and William H Welsh.
It runs 91 minutes, is written by Barré Lyndon and Marge Decker, is shot in black and white by Harold Rosson, is scored by Bronislau Kaper and is designed by Cedric Gibbons and James Basevi.
It took nearly $3 million at the box office, enough to be decently profitable in those days.
© Derek Winnert 2017 Classic Movie Review 4972
Check out more reviews on http://derekwinnert.com