Titanic *** (1953, Clifton Webb, Barbara Stanwyck, Robert Wagner) – Classic Movie Review 5270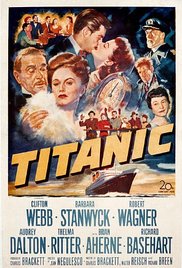 Director Jean Negulesco's 1953 drama fits a fictional family resentment tale into the real-life story of the British passenger liner RMS Titanic going down in the North Atlantic Ocean with more than 1,500 people aboard in the early morning of 15 April 1912.
Clifton Webb and Barbara Stanwyck star as a quarrelling husband and wife, Richard and Julia Sturges, who fall out when posh Webb clashes with his wife Stanwyck, who says her son is not his. So Webb ignores the kid till the Titanic hits the fatal iceberg and thaws out their relations.
Strong special effects help a lot. The 20th Century Fox studio provided a 20-foot model to represent the world's largest liner. In fact, the film is technically superb for its day. The production values and photography are way above average, though Joseph MacDonald shoots in black and white when you might expect Technicolor.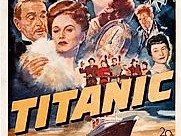 Producer Charles Brackett, Walter Reisch and Richard L Breen won an Oscar for Best Story and Screenplay but the screenplay is the weakest element of the movie. It was also nominated for Best Art Direction-Set Decoration, Black-and-White (Lyle R. Wheeler, Maurice Ransford, Stuart A. Reiss) and a win in this category would have been appropriate and deserved.
Though this one has its charms, the British A Night to Remember (1958) is classier, and so is James Cameron's 1997 Titanic.
Surprisingly running at only 97 minutes, it is very short for a movie attempting this subject.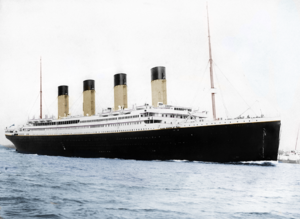 Also in the cast are Robert Wagner, Audrey Dalton, Thelma Ritter, Richard Basehart, Brian Aherne, Allyn Joslyn, James Todd, Frances Bergen, William Johnstone, Christopher Severn, James O'Hara, Charles B FitzSimons, Barry Bernard, Guy Standing Jr, Helen Van Tuyl, Roy Gordon, Marta Mitrovich, Ivis Goulding, Dennis Frazer, Ashley Cowan, Harper Carter, Patrick Aherne, Merry Anders, Salvador Baguez, Eugene Borden, Hamilton Camp, Harry Cording, Nicholas Coster, Anthony Eustrel, Elizabeth Flournoy, Ralph Grosh, Ron Hagerthy, Charles Keane, Mae Marsh, Alberto Morin, Edmund Purdom, David Thursby and Richard West.
© Derek Winnert 2017 Classic Movie Review 5270
Check out more reviews on http://derekwinnert.com