Three Men in a Boat **½ (1956, Jimmy Edwards, Laurence Harvey, David Tomlinson, Shirley Eaton, Robertson Hare, Jill Ireland, Lisa Gastoni, Martita Hunt, Adrienne Corri, A E Matthews, Ernest Thesiger) – Classic Movie Review 4310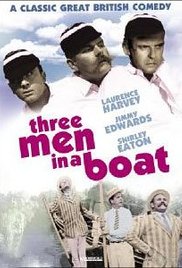 All should be plain sailing with director Ken Annakin's 1956 British screen version of Jerome K Jerome's misadventures of three less than eminent Victorians, Harris, George and Jimmy (Jimmy Edwards, Laurence Harvey and David Tomlinson), the three men in the boat on a rowing river trip up the Thames to Oxford in the 1890s. In a commendably busy plotline, well series of comic situations anyway,  they have to negotiate tents, rain and locks, as well as the Hampton Court maze and the Henley Regatta.
But the project is partly sunk by Hubert Gregg and Vernon Harris's over-broad, fussy, farcical script which gets the tone wrong, emphasising the accident-prone side of the threesome, and Jack Clayton's over-inflated CinemaScope production which is unsuitable for such an intimate story. All you need here is three men and a boat, and focus on that, but they try for much more to try to make it 'cinematic', which just makes it seem bloated.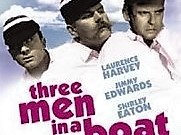 However, it is all aboard, though, for the treasurable crew of Fifties British character actors who just about keep the leaky vessel afloat. The boys take a pretty girl (Shirley Eaton, as Sophie Clutterbuck) along, which Jerome would not have appreciated at all! Worse still, the boys meet Primrose and Bluebell Porterhouse (Lisa Gastoni, Jill Ireland) too!
And just look at the hallowed roster of old character actors: Robertson Hare, Martita Hunt, Adrienne Corri, A E Matthews, Ernest Thesiger, Noelle Middleton, Charles Lloyd Pack, Norman Rossington, George Woodbridge, Esma Cannon, Harold Goodwin, Peggy Ann Taylor and Sheila Raynor. Every one a winner!
Eric Cross films in lovely colour by Eastmancolor, John Addison provides a fine score and  set designer John Howell contributes a fine, handsome-looking production.
After disappointing at the UK box office, it was a hit in France.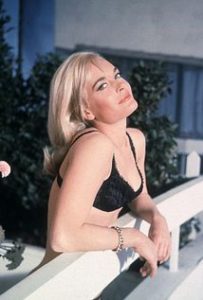 Shirley Eaton is also in Doctor in the House (1954), The Love Match (1955), Panic in the Parlor (1956), Your Past Is Showing (1957), Doctor at Large (1957), Carry On Sergeant (1958), Carry On Nurse (1959), Ten Little Indians (1965), The Blood of Fu Manchu (1968) and, most famously as golden girl Jill Masterson in Goldfinger (1964).
Three Men in a Boat was twice previously filmed, and made again for British TV in 1975 by director Stephen Frears, starring Tim Curry, Michael Palin and Stephen Moore. After a silent film, there was Graham Cutts's 1933 film with William Austin, Edmond Breon and Billy Milton.
© Derek Winnert 2016 Classic Movie Review 4310
Check out more reviews on http://derekwinnert.com