Three in the Attic *** (1968, Christopher Jones, Yvette Mimieux, Judy Pace, Maggie Thrett, Nan Martin, Reva Rose, John Beck) – Classic Movie Review 4846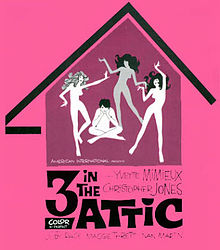 Director Richard Wilson's provocative and fairly amusing 1968 Swinging Sixties sex comedy drama with a point to it stars Christopher Jones as womanising Paxton Quigley, a smarmy two-timing (well, three-timing) college Casanova who swears fidelity to all three of the girls he is dating. They are played by Yvette Mimieux, Judy Pace, and Maggie Thrett.
Stephen H Yafa adapts his own novel Paxton Quigley's Had the Course, in which the three wronged girls learn of his deception and avenge themselves on the boy by luring him into a college dormitory attic, locking him up there and taking it in turns to torment, pamper and make love to him. Basically, he is their sex slave.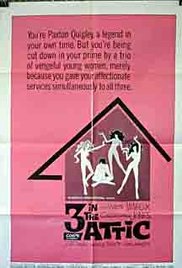 It is a weird but vaguely promising idea that proves suitably hot to handle, and the treatment is by turns daft, frank and fun. It is not at all badly done here, but just imagine what a great movie director like Luis Buñuel could have done with it back in the day!
It also features Nan Martin as dean Nazarin, Reva Rose, John Beck (in his film debut), Richard Derr, Eve McVeagh, Honey Alden and Tom Ahearne.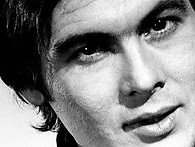 Yafa had been unable to sell his screenplay so he turned it into a novel and won a Writers Guild of America award.
Sandy Dvore designed the title sequence.
American International Pictures distributed it in a double bill with Woody Allen's What's Up, Tiger Lily? (1966).
© Derek Winnert 2017 Classic Movie Review 4846
Check out more reviews on http://derekwinnert.com