Thoroughly Modern Millie **** (1967, Julie Andrews, Mary Tyler Moore, John Gavin, James Fox, Carol Channing, Beatrice Lillie) – Classic Movie Review 5158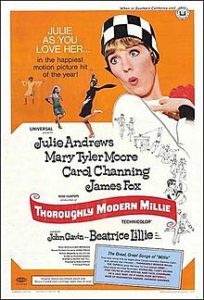 Director George Roy Hill's charming 1967 musical is a perfect vehicle for the thoroughly captivating Julie Andrews as the Twenties flapper Millie Dillmount who discovers a new real chum in a sweet, innocent, naive young woman called Miss Dorothy Brown (Mary Tyler Moore), sets her sights on marrying the rich, attractive but self-absorbed Trevor Graydon (John Gavin), and eventually finds true love with callow young devil-may-care paper clip salesman Jimmy Smith (James Fox).
Miss Dorothy checks into the Priscilla Hotel, whose house mother Mrs Meers (Beatrice Lillie) is happy to learn that she is an orphan and wistfully says: 'Sad to be all alone in the world.' For Mrs Meers is gleefully selling her lonely tenants into white slavery. Jimmy takes the two girls to Long Island, where they meet eccentric widow Muzzy Van Hossmere (Carol Channing).
How many musicals are there about white slavery? It's the stuff of horror movies! And with a U certificate too. Richard Morris's screenplay focuses on Miss Dorothy's attempts to avoid the clutches of Mrs Meers and Millie's madcap adventures in her plan to marry her wealthy boss Graydon. The film was nominated for seven Academy Awards and five Golden Globes. Elmer Bernstein won the Oscar for the Best Original Score and Carol Channing won the Golden Globe for Best Supporting Actress – Motion Picture.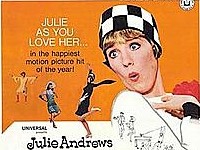 Hill directs this larky, often inspired comedy musical with great verve, and there are wonderful comic turns from Beatrice Lillie as the white slave trader and Carol Channing as the zany aviatrix. Ross Hunter provides one of his plush and expensive-looking productions, with great set designs by Alexander Golitzen and George C Webb, cinematographer Russell Metty makes it gleam, choreographer Joe Layton makes it toe-tappingly exciting, and Elmer Bernstein, André Previn and Joseph Gershenson attend brilliantly to the tuneful music. It really does look and sound a treat.
There are two new James Van Heusen-Sammy Cahn songs (the Oscar-nominated hit title number and 'The Tapioca') but the rest is a carefully chosen pick of delightful old favourite standard songs of the 1910s and Twenties, including 'Do It Again', 'Charmaine', 'Baby Face' and 'Jazz Baby'. Although the film is set in 1922, 'Baby Face' was not published till 1926.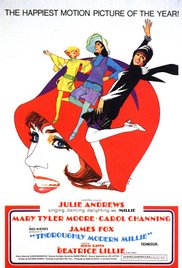 Also in the cast are Jack Soo, Pat Morita, Anthony Dexter, Philip Ahn, Cavada Humphrey, Lou Nova, Michael St Clair, Albert Carrier, Victor Rogers, Lisabeth Hush and Mae Clarke.
Andrews was the number one movie star at the box office, and the film was a hit, taking $40 million worldwide on a $6 million cost.
Carol Channing, born 31 January 1921, continues to perform and make appearances.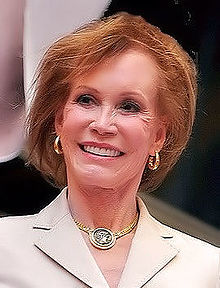 RIP Mary Tyler Moore, who died on 25 aged 80. She was nominated for an Academy Award as Best Actress for 1980's Ordinary People.
© Derek Winnert 2017 Classic Movie Review 5158
Check out more reviews on http://derekwinnert.com