Things to Do in Denver When You're Dead **** (1995, Andy Garcia, Christopher Walken, Christopher Lloyd, Gabrielle Anwar, Treat Williams, Steve Buscemi, William Forsythe, Bill Nunn, Jack Warden, Fairuza Balk, Bill Cobbs, Don Cheadle, Willie Garson) – Classic Movie Review 904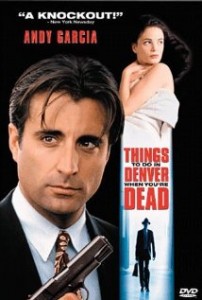 'They have to die , they  can die slowly or they can die fast but they have to die.'
In director Gary Fleder's exceptionally dark, dangerous and disturbing 1995 film noir, Andy Garcia enjoys and really relishes a showy role as Jimmy 'The Saint' Tosnia, heavily in debt to crazed wheelchair-bound gangster boss 'The Man with the Plan' (Christopher Walken).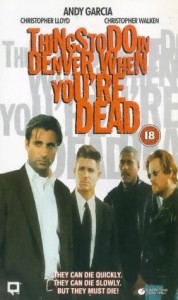 'The Man' sets Garcia's Jimmy and his incompetent accomplices off to organise the violent intimidation of a couple of crooks. Garcia then enjoys a doomed romance with Dagney (Gabrielle Anwar), meets psychotic morgue attendant Critical Bill (Treat Williams), and is mixed up with gangster Pieces (Christopher Lloyd) and Steve Buscemi as quiet assassin, Mr Shhh.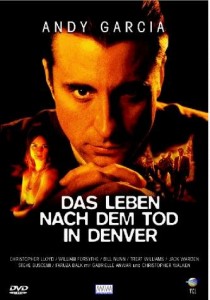 This nihilistic thriller is extremely well handled, atmospheric and distinctly humorous at times between the violence, but it's very, very dark indeed. All the actors push it, enjoyably, to the extreme, as only they can, and the look of it is superbly sleek and noir.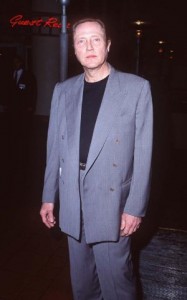 Walken gives the stand-out turn, even in this distinguished company, which also includes William Forsythe, Bill Nunn, Jack Warden, Fairuza Balk, Bill Cobbs, Don Cheadle and Willie Garson.
The screenplay is by writer and producer Scott Rosenberg, known for Con Air (1997), Gone in Sixty Seconds (2000) and High Fidelity (2000).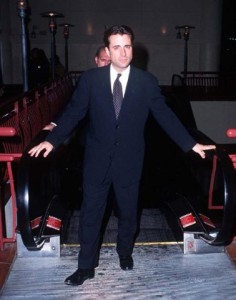 The film's title is taken from a Warren Zevon song from his 1991 release Mr Bad Example.
http://derekwinnert.com/high-fidelity-2000-classic-film-review-876/
http://derekwinnert.com/7-psychopaths-film-review/
© Derek Winnert 2014 Classic Movie Review 904
Check out more reviews on http://derekwinnert.com/