Things to Come [L'avenir] **** (2016, Isabelle Huppert, André Marcon, Roman Kolinka, Edith Scob) – Movie Review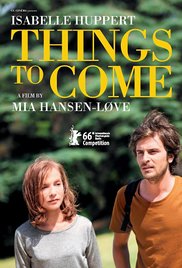 It never rains but it pours! Isabelle Huppert enchants as Paris high school philosophy teacher Nathalie, whose life starts coming apart at the seams when her difficult, possessive mother (Edith Scob) gets sick and dies, her husband (André Marcon) announces he is leaving her for another, younger woman, her book deal collapses, her two children are leaving the nest, her favourite ex-student (Roman Kolinka) leaves for an anarchist collective and she gets fired from her job.
How is her passion for her work and her life going to get her through? Nathalie seems very capable and practical, but now she's having a full-on Bergman-esque angst crisis. Against these odds, will she even survive?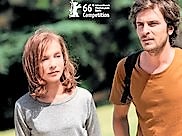 Writer-director Mia Hansen-Løve does Huppert and the audience proud. Huppert turns in a magnetic performance in a quietly mesmerising movie. It's one heck of a role, and Huppert laps it up like a starving beggar at a feast. Hansen-Løve sees everything through Nathalie's eyes. She gets right in there and stays in till it hurts. The film may be sensitive and genteel, but the feelings are red raw.
[Spoiler alert] You really want it to work out for Nathalie, as played so sympathetically by Huppert. You feel the film is going to bottle out and go cheesy and offer Nathalie a new love, a second chance, a big redemption. But somehow you know it just can't. She ends up with her mother's mangy old black cat that she never much liked. Well, hey, life's like that, says Hansen-Løve.
Pondering the title, what Things are to Come for Nathalie? What does the future hold? Maybe Hansen-Løve will make a sequel and tell us.
It won the Silver Bear at the Berlin Film Festival.
The London Film Critics' Circle voted Huppert Actress of the Year.
Hansen-Løve's last film was the equally brilliant Eden (2014).
© Derek Winnert 2016 Movie Review
Check out more reviews on http://derekwinnert.com