Things to Come **** (1936, Raymond Massey, Edward Chapman, Ralph Richardson, Cedric Hardwicke) – Classic Movie Review 905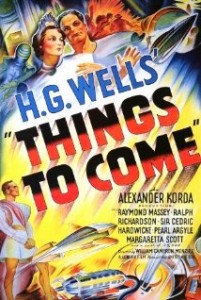 In a future 1940, a 30-year-long global war and a black death plague destroys Everytown. Then in 1970, a band of scientists rebuild it into a great futuristic city. And by 2036, the first pair of humans rocket to the moon, despite the revolution in the city.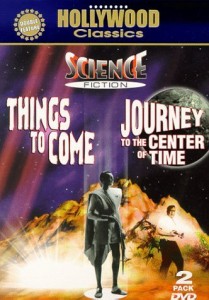 Visionary producer Alexander Korda's backstage workers expend a huge amount of money, a lot of imagination and great visual flair to depict H G Wells's famous gloomy vision of the future.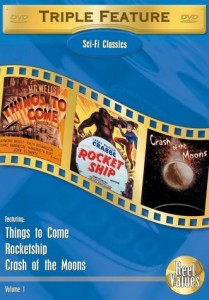 The screenplay, notably by Wells himself adapting his own novel, deals in symbolic characters rather than real folk, which unfortunately leads to some erratic and dated performances, though the star quartet of Raymond Massey (John Cabal), Cedric Hardwicke (Theotocopulos), Edward Chapman (Raymond Passworthy) and Ralph Richardson (The Boss) are all excellent.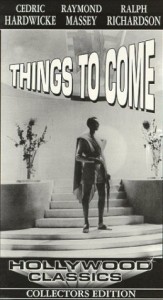 Director William Cameron Menzies's splendid 1936 British film is still an awesome achievement for its day, with amazing sets by Vincent Korda and astounding visual effects (for the time, of course) by Ned Mann and Harry Zech, plus outstanding cinematography by Georges Périnal and an extremely fine music score by Arthur Bliss.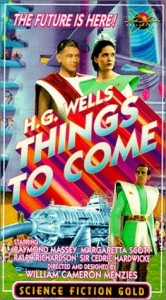 Margaretta Scott, Maurice Braddell, Ann Todd, Sophie Stewart, Derrick de Marney, John Clements, Abraham Sofaer and Patrick Barr are in the hand-picked cast and Terry-Thomas has an early bit part.
http://derekwinnert.com/war-of-the-worlds-1953-classic-film-review-485/
http://derekwinnert.com/war-of-the-worlds-2005-classic-film-review-525/
http://derekwinnert.com/the-time-macine-2002-classic-film-review-662/
http://derekwinnert.com/the-time-machine-1960-classic-film-review-661/
http://derekwinnert.com/the-invisible-man-1933-classic-film-review-778/
© Derek Winnert 2014 Classic Film Review 905 derekwinnert.com