They Died with Their Boots On **** (1941, Errol Flynn, Olivia de Havilland, Arthur Kennedy, Charley Grapewin, Anthony Quinn, Sydney Greenstreet, Gene Lockhart) – Classic Movie Review 4748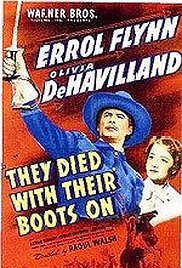 Director Raoul Walsh's 1941 Western adventure pairs the dashing Errol Flynn and the lovely Olvia de Havilland for the eighth and last time as the story of General George Armstrong Custer is rousingly told with the full Hollywood flourish.
Attractive playing and Walsh's stylish direction keep the many chapters in this long, 140-minute saga on the boil, with a spectacular finale at Little Big Horn.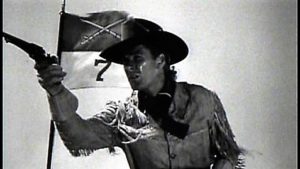 Usually underrated as an actor, Flynn does well as Custer, developing nicely from the dashing hero at cadet college on his arrival at West Point in 1857, through the American Civil War, to the tragic figure of the massacre at Big Horn in 1876. De Havilland plays Elizabeth Bacon (Custer).
Iron Eyes Cody, vintage Hollywood's most famous Native American actor, who died in January 1999, aged 94, was injured by Flynn in action sequences on the set.
It also stars Arthur Kennedy as Ned Sharp, Charley Grapewin as California Joe, Anthony Quinn as Chief Crazy Horse, Sydney Greenstreet as Lieutenant General Winfield Scott and Gene Lockhart as Samuel Bacon.
Also in the cast are Stanley Ridges as Major Romulus Taipe, Regis Toomey as Fitzhugh Lee, Hattie McDaniel as Callie, John Litel as General Phil Sheridan, Walter Hampden as William Sharp, Frank Wilcox, Joseph Sawyer, Minor Watson, Gig Young, Joseph Creehan, Anna Q Nilsson, William Hopper, Selmer Jackson, Ray Teal, Frank Orth, Irving Bacon, Hobart Bosworth, Frank Ferguson, Roy Barcroft, Lane Chandler and Eddie Acuff.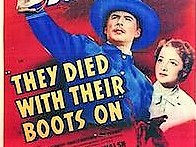 Made by Warner Bros, is is written by Wally Kline and Aeneas Mackenzie, shot in black and white by Bert Glennon, produced by Hal B Wallis and Robert Fellows and scored by Max Steiner. As usual with vintage Hollywood, the screenplay provides a highly fictionalised account of its subject's life, but it's only a movie…
It grossed $2.55 million in 1941 for Warner Bros, as their second biggest hit of the year, making a profit of $1.5 million.
It was digitally colorized in the early Nineties and released on VHS in 1998, but the original black-and-white film was released on DVD in 2005.
Flynn collapsed from exhaustion during filming in September 1941.
There were three fatalities. One stuntman fell from a horse and broke his neck, another stuntman had a heart attack, and actor Jack Budlong was sent him flying off his horse by an explosive charge and landed on his sword.
Flynn and de Havilland later both also appear separately in Thank Your Lucky Stars (1943).
© Derek Winnert 2016 Classic Movie Review 4748
Check out more reviews on http://derekwinnert.com