They Came from Beyond Space * (1967, Robert Hutton, Jennifer Jayne, Zia Mohyeddin, Bernard Kay, Michael Gough) – Classic Movie Review 4406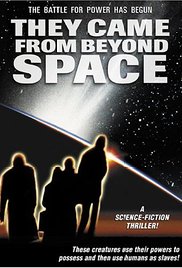 Robert Hutton stars in director Freddie Francis's cheap, daft and unconvincing 1967 British sci-ci chiller as Dr Curtis Temple, an astro-physicist who, it turns out, can save the world. It also stars Bernard Kay as extraterrestrial expert Dr Richard Arden, Jennifer Jayne as his girlfriend Lee Mason, Michael Gough as Master of the Moon and Zia Mohyeddin as Farge.
British scientists investigating a meteor shower in a field are possessed by an alien force that also starts taking over the residents of Cornwall to use them as slaves to repair their broken-down spaceship. But, luckily, Hutton's Dr Temple is safe because he has a metal plate in his head that protects him from the insidious monsters.
Written and produced by Milton Subotsky for Amicus productions, this is a poor effort with cheap costumes, plastic wigs, micro-budget effects and paper scenery.
Director Francis, esteemed veteran of several excellent British horror movies, hits a career low point with this one. He said Amicus had spent all its budget on The Terrornauts (1967), leaving nothing for his film. It was released in a double bill with Terrornauts.
Also in the cast are Geoffrey [Hedger] Wallace, Maurice Good, newsreader Kenneth Kendall, Luanshya [Pamela] Greer, John Harvey, Diana King, Paul Bacon, Christopher Banks, Dermot Cathie, Norman Claridge, James Donnelly, Frank Forsyth, Leonard Grahame, Michael Hawkins, Jack Lambert, Robin Parkinson, Edward Rees and Katy Wild.
It was shot at Twickenham Film Studios, Middlesex, UK. Subotsky's script is based on the novel The Gods Hate Kansas by Joseph Millard.
© Derek Winnert 2016 Classic Movie Review 4406
Check out more reviews on http://derekwinnert.com