They ** (2002, Laura Regan, Marc Blucas, Ethan Embry, Jon Abrahams, Dagmara Dominczyk, Alexander Gould) – Classic Movie Review 4405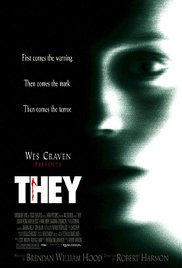 A quartet of college graduate student friends finds themselves terrorised by the monsters they feared as children. Laura Regan, Marc Blucas, Ethan Embry and Jon Abrahams star in Robert Harmon's interesting but only moderate 2002 horror chiller that starts well then runs out of ideas and suspense.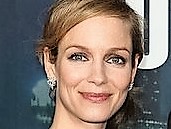 Laura Regan has the main role as graduate psychology student Julia Lund, who witnesses a traumatic event and finds all her childhood fears and phobias becoming real. Julia Lund, Sam Burnside, Terry Alba and Billy Parks find they have to tackle their experiences with the phenomenon of night terrors.
The screenplay is written by Brendan Hood, whose original script featured four recent college graduates who find Earth is run by a race of organic machines that only allow the humans to exist so they can kill them to use their corpses as spare parts for their bodies. Now that is good!
Harmon is also the talented director of The Hitcher (1986), Eyes of an Angel (1991) and Nowhere to Run (1993).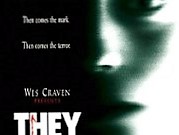 Marc Blucas plays Paul Loomis, Ethan Embry plays Sam Burnside, Dagmara Dominczyk plays Terry Alba, Jay Brazeau plays Dr Booth and Jon Abrahams plays Billy Parks. Alexander Gould, who plays young Billy, was the voice of Nemo in Finding Nemo (2003).
Wes Craven served as executive producer and it is also known as Wes Craven Presents They.
Though the movie is set in New York, it was filmed in Vancouver, New Westminster, Burnaby and Delta, Canada.
© Derek Winnert 2016 Classic Movie Review 4405
Check out more reviews on http://derekwinnert.com