Thérèse Desqueyroux **** (2012, Audrey Tautou, Gilles Lellouche, Anaïs Demoustier, Catherine Arditi, Isabelle Sadoyan) – Movie Review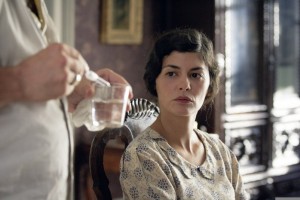 Made while he was already ill with cancer, the late Claude Miller never puts a foot wrong in his last film, an exquisitely done adaptation of the 1927 tragic novel by François Mauriac.
Boldly and effectively he reworks the way it's told, turning the original flashback structure into a linear narrative, thus at one stroke adding huge amounts of tension and suspense throughout. Quite dark and chilling, it now satisfyingly proceeds more like a Hitchcock-style mystery thriller rather than a feminist liberationist statement.
Looking exactly right for the period role and as far from Amelie as it's possible for one woman to get, Audrey Tautou is perfection itself as the young Thérèse, who in an arranged marriage, agrees to become Mrs Desqueyroux, wife of the rigid and dreary Bernard (Gilles Lelouche), born to be a useless husband as he was raised with ridiculous strict and staunch family traditions.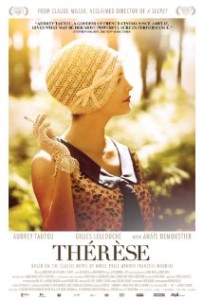 It's the bad old days in the incredibly beautiful French region of Landes, near Bordeaux. Out of this deal that at the time was the usual kind that helped to merge parcels of land and unite neighbouring families, tragedy ensues when Therese's avant-garde ideas clash with the local social conventions and she resort to desperate measure to try to free herself from the boring, repressive fate imposed on her in order to live life to the full as she wishes.
At first she really thinks she can happily married to Bernard ('I've chosen peace'), but later she decides her life is not how she thinks things should be and takes drastic criminal action – she decides to poison her husband. Cast against type and showing a very different side of herself, Tautou manages to be extremely tough, mysterious and cerebral on screen as Thérèse.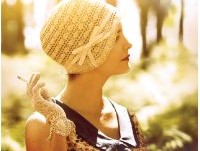 It's a difficult role but she pulls it off triumphantly. We are asked to sympathise with her entirely, and she is forgiven and absolved of her crime of attempted murder in the script. Lelouche is brilliant and quite touching as the fragile, hypochondriac, desperately hurt husband, who eventually frees the trapped Thérèse, and Catherine Arditi and Isabelle Sadoyan are outstanding as the mother and aunt.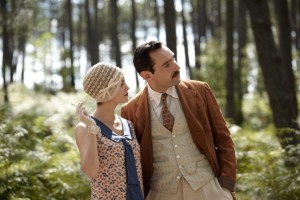 Though it's incredibly sad that this is Miller's final film, it's great to remember him with this one and to have back with us an old-style French art movie – and how brilliantly the French do these! Memorable, vintage stuff.
Claude Miller, also known for This Sweet Sickness 1976 [Dites-lui que je l'aime] and The Accompanist 1992[L'accompagnatrice], died aged 70 in 2012, just managing to make Thérèse Desqueyroux in his last months.
http://derekwinnert.com/this-sweet-sickness-classic-film-review-188/
© Derek Winnert 2013 Movie Review
Check out more reviews on http://derekwinnert.com