The Wrestler **** (2008, Mickey Rourke, Marisa Tomei) – Classic Movie Review 1443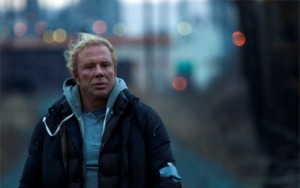 Unrecognisable from his own old glory days of the 80s, Mickey Rourke bounces back triumphantly with a scary performance as Randy 'The Ram' Robinson.
Randy is a burnt-out, shattered pro wrestler trying to resuscitate his life, career and even the shell that was once himself. He fights for his life after an offer of a high-profile re-match with his 80s arch-nemesis, The Ayatollah (Ernest Miller).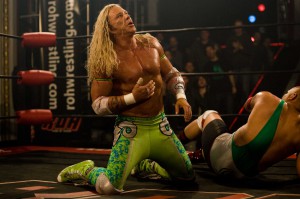 Rourke's brio turn is an unmissable one of great brilliance- and so is Marisa Tomei's as Cassidy, the ageing pole dancer who helps keep him in the game. Rourke won the Golden Globe and Bafta awards as Best Actor, but alas he was only Oscar nominated.
Tomei was Oscar, Bafta and Golden Globe nominated as Best Supporting Actress. It's a great shame she didn't win anything because this is the perfect support performance. Evan Rachel Wood is very fine too as his young daughter Stephanie, sharing top-quality scenes with Rourke.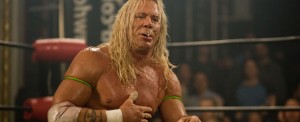 Director Darren Aronofsky's bleak, painful and quite depressing 2008 film is a tough but incredibly rewarding watch. The American Film Institute voted it Film of the Year.
A toast to never giving up, it isn't the cosy, sentimental heart-warmer you'd expect. Instead it plays like a hard-hitting documentary with bloody realism, tricky, challenging dialogue and a nasty sting in the tail. The wresting scenes are gruesomely staged for maximum realism – there's no glamour on show here anywhere at all.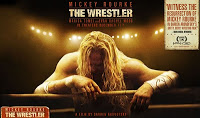 Robert D Siegel's screenplay is a knockout. Bizarrely, he went on to write Turbo in 2013.
Bruce Springsteen won an Oscar for his Best Original Song, The Wrestler.
Giving their award, the American Film Institute said it is 'a cinematic smackdown that slams audiences head first into the harsh and harrowing world of professional wrestling. Fearlessly exploring the dream-ravaged landscape of a performer whose time has come and gone, it transcends the sports genre.'
Aronofsky is the director of Pi, Requiem for a Dream and Black Swan (2010).
http://derekwinnert.com/requiem-for-a-dream-classic-film-review-67/
http://derekwinnert.com/pi-classic-film-review-202/
© Derek Winnert 2013 Classic Movie Review 1443
Check out more reviews on http://derekwinnert.com/