The World's End *** (2013, Simon Pegg, Nick Frost, Martin Freeman) – Movie Review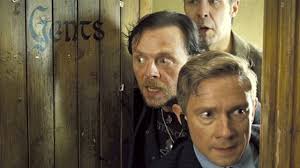 Simon Pegg and Nick Frost return for the third part of what's now apparently a loose trilogy of Britcoms. Pegg and co-writer/director Edgar Wright call it The Blood and Ice Cream Trilogy. So, just one more Cornetto then please. An amazing amount of energy is expended, and lots of laddish laughs ensue, but it's not as brilliant as Shaun of the Dead or as dynamic as Hot Fuzz. A lot of imagination, time, effort and money have gone into it, and the TLC shows.
Pegg's written a stonking great star part for himself as Gary King, 40-year-old survivor of a massive 10-inn pub crawl back 23 years ago in 1990 when he and five mates failed to reach the last hostelry on the course, The World's End. Now, adrift in London in 2013, he persuades them by fair means or foul to leave their lives in the city and go back to the town they grew up in put this little matter right.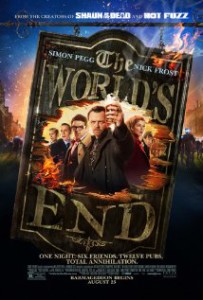 His far more sensible buddies, Frost, Martin Freeman, Eddie Marsan and Paddy Considine join in the fun rather reluctantly, particularly Frost, who's now a teetotaller and was tricked into coming along when Pegg tells him his mother has died. This is a quite dreadful lie: she's living in Bournemouth.
When they get back to their hometown, they find (1) the lovely Rosamund Pike, with whom Pegg had a memorable brief encounter in the disabled toilets 23 years earlier (2) a creepy old bloke (David Bradley) (3) a creepy publican (Mark Heap) (4) a former James Bond actor and (5) deranged locals that I'm not allowed to tell you about for spoiler reasons. Something very strange indeed is going on.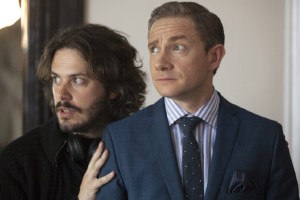 In between bouts of copious drinking from pub to pub on the way to The World's End, Pegg naturally fancies getting back together with Pike, who seems understandably more interested in the hangdog but considerably more charming Considine.
The humour is a shade patchy but often funny, and occasionally hilarious, though much of the script is way too reliant on F and C words to get laughs. They did, on the night I saw it. Some of it is pretty feeble along the lines of: 'We're going to see this through to the bitter end, or lager end.' It might have looked funny on the page, but it's a gag from an ancient Christmas cracker. Then again, a pub that's actually called The Cork is renamed The Famous Cock for the film, and the joke hammered home on screen.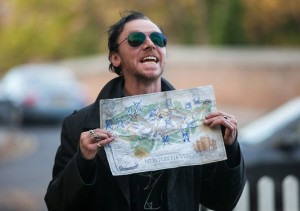 Oh well. Schoolboy smut, not subtle but funny enough if you're in the mood. With a few drinks yourself beforehand, not doubt hilarious. This is definitely a film to see with an alcohol-fuelled good mood well established beforehand. You would want to see a movie about five blokes on a pub crawl without a few bevies yourself, would you? Be serious.
I'm not sure the scenario I can't tell you about works entirely. It is interesting and ambitious, it would have sounded great in production meetings and looked good on the page, but it feels a bit shaky in performance. Shaun of the Dead's spoof zombie idea worked a treat, this one isn't so nifty. Maybe they'd have been better going for another straight genre parody.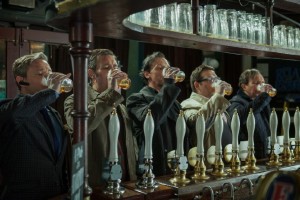 The change of gear from laddish pub-crawl comedy after 45 minutes is awkward, and anyway I was enjoying the nostalgic, male re-bonding film, just as it was. Did they lose the faith in the original set-up and have to start another idea over it to keep it going and fill the 110 minutes? I'd have keep up with the lost youth, middle-aged angst, old blokes in search of a new life scenario. But maybe it just got a bit too dull.
The present script is plenty lively though and the performances, especially Pegg's astoundingly dynamic. The other parts aren't so well written, giving the good actors some problems to make their mark, and the present company are mostly straightish actors, not comedians, when funny men would have been funnier.
I really like Eddie Marsan and Paddy Considine, and they deserve their roles here, making their mark, but would a couple of hilarious TV blokes have been sparkier? And Pike is game for everything but she's not funny. Frost and especially Freeman seem subdued. Maybe The Hobbit's tired Freeman out. Pegg looks a bit tired too, but that's probably because he's working so hard in his case.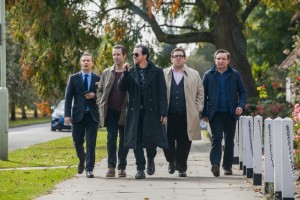 No doubt to protect the innocent, the film's set in some fictional town and the pubs have all been renamed. But it was filmed in Letchworth Garden City (Hertfordshire), the real site of Britain's first roundabout that we see in the movie, and actually built in 1909. I've no idea why this is important, or significant, or especially why it's funny. But it seems to be to Pegg and Wright, so I just mention it.
Frost's character works in London in a soulless glass building that looks remarkably like IPC Media's Blue Fin building, for a law company called Beckingham, Pegg's real name. The World's End pub is really The Gardeners Arms in Letchworth. The writers seem to have gained inspiration from a 1977 turkey End of the World with Christopher Lee.
Long story short: slightly shaky but there's lots of good stuff, lots of laughs and lots of Simon Pegg.
© Derek Winnert 2013 Movie Review
Check out more reviews on http://derekwinnert.com