The Woman in Red ** (1935, Barbara Stanwyck, Gene Raymond, John Eldredge, Genevieve Tobin) – Classic Movie Review 4268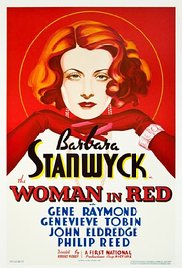 Director Robert Florey's 1935 drama stars Barbara Stanwyck and Gene Raymond as mismatched new couple Shelby and John Wyatt, who struggle through his snobbish family's dislike of her and charges that she has been fooling around with wealthy Gene Fairchild (John Eldredge), who is in love with Shelby.
Shelby is a show horse rider and John a polo player, both of them working for rich Mrs 'Nicko' Nicholas (Genevieve Tobin), who soon tries to steal John from Shelby as the couple are going broke.
With John away, Fairchild invites Shelby aboard his yacht to help entertain a wealthy client, who turns up with a drunk female companion, who falls overboard and drowns – and a Long Island murder trial ensues.
With Mary C McCall Jnr and Peter Milne's screenplay based on the novel North Shore by Wallace Irwin, this is intriguingly set up but turns into a wild display of horribly stodgy, faded melodramatics. However, the forceful playing of the very young looking, always admirable Stanwyck just about saves the day, and some her dialogue is not too bad. Tobin also keeps the movie going, in a dynamic performance.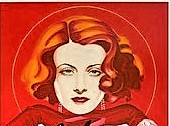 The soundtrack includes I Only Have Eyes for You (music by Harry Warren, lyrics by Al Dubin), sung by Gene Raymond.
Also in the cast are Philip Reed, Dorothy Tree, Russell Hicks as Defence Attorney Clayton, Nella Walker, Claude Gillingwater, Doris Lloyd, Hale Hamilton, Edward [Ed] Van Sloan as Prosecuting Attorney Foxall, Forrester Harvey, Bill Elliott, Frederick Vogeding, Eleanor Wesselhoeft, Brandon Hurst, George Chandler, Virginia Dabney, William B Davidson, Bess Flowers, Nan Grey, Edward Keane, Edward LeSaint, Tom McGuire, Jack Mower, Jack Mulhall, George Riley, Ann Shoemaker, Phil Tead, Arthur Treacher, Harry Tyler and Evelyn Wynans.
The film features in Woody Allen's 2016 Café Society.
© Derek Winnert 2016 Classic Movie Review 4268
Check out more reviews on http://derekwinnert