The Wizard of Oz ***** (1939, Judy Garland, Frank Morgan, Ray Bolger, Jack Haley, Bert Lahr, Margaret Hamilton, Billie Burke) – Classic Movie Review 14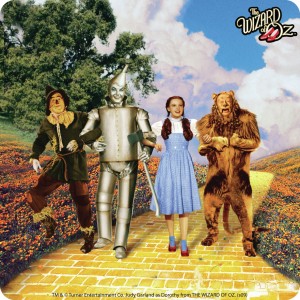 'I'll get you, my pretty, and your little dog, too!' – The Wicked Witch of the West.
Now firmly established as the traditional Christmas film par excellence, as it's on TV at that holiday season every year, The Wizard of Oz is prefect musical fantasy adventure viewing any day of the year for all members of the family.

The 17-year-old Judy Garland gives a knockout, wizard performance as the Kansas farm girl Dorothy, who sprinkles a special kind of fairy dust on her magical, colourful, inventive and imaginatively staged journey along the yellow brick road, along with her little dog Toto too.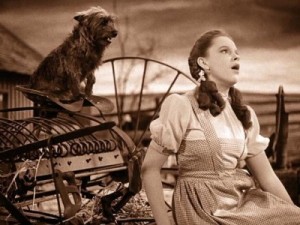 At home in Kansas, she's knocked out by a tornado and dreams (as the hitherto black and white movie opens up into glorious Technicolor) about her life-affirming adventures with the Scarecrow (Ray Bolger), the Tin Man (Jack Haley) and the Cowardly Lion (Bert Lahr). They're off to see the Wizard and have to the yellow brick road. Apart from her new friends, Dorothy has her ruby slippers to help her.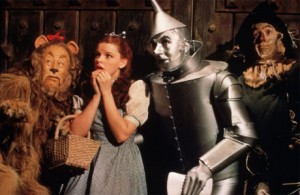 On the way to meeting to the Wizard of Oz himself (Frank Morgan, in a role planned for W C Fields), who might be able to help get back home to Kansas, she's obstructed by the deliciously evil Wicked Witch of the West (Margaret Hamilton) and aided by the smarmy Good Witch of the North, Glinda (Billie Burke). 'Toto, I've a feeling we're not in Kansas, any more,' says Dorothy. Wise, and famous, words!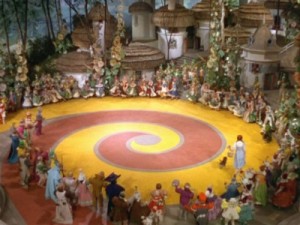 But, Dorothy eventually remembers that, however exciting and colourful the merry old land of Oz is, 'There's no place like home'. And when she finds the Wizard isn't great and powerful after all, he proves a disappointment for Dorothy: 'Pay no attention to that man behind the curtain'.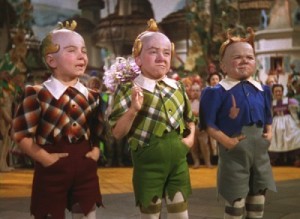 Aside from Garland's infectiously charming, iconic performance and the adorable top-notch character acting, there's a glorious MGM studio production, with gleamingly imaginative sets, gorgeous photography, bright costumes and clever make-up. And, of course, there are those memorable, neck-tingling Harold Arlen-E Y Harburg songs – 'The Witch Is Dead', 'Follow the Yellow Brick Road', 'We're Off To see the Wizard', 'If I Only Had a Brain' and 'The Merry Old Land of Oz'.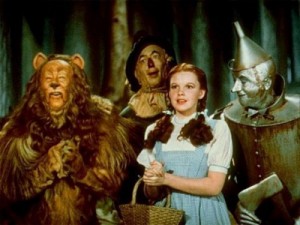 And then there's 'Over the Rainbow', which can still bring tears to the eyes of even the biggest munchkins. It won an Oscar for best song and so did Herbert Stothart for best original score (with four other nominations, though there were none, surprisingly, for any of the performances).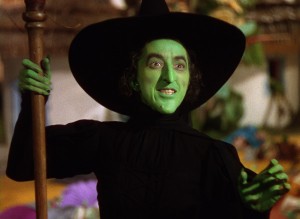 Though none of it shows on screen, it was a troubled production that employed six directors (credited Victor Fleming, plus King Vidor who directed the black and white Kansas scenes, George Cukor, Norman Taurog and Mervyn LeRoy, though all of Richard Thorpe's footage was dumped) and a slew of writers (a dozen uncredited along with the three named ones, Noel Langley, Florence Ryerson and Edgar Allan Woolf).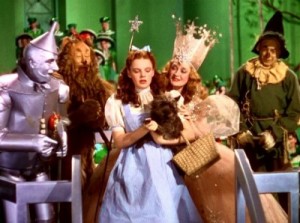 The original edit was an over-long, clunky 112 minutes and they even very nearly cut 'Over the Rainbow' until, thankfully, there was a last-minute rethink. But it was eventually edited down to the 101 minutes of film we know and love with 'Over the Rainbow' intact.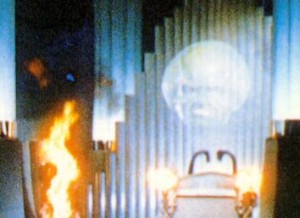 The mostly foreign-speaking little people playing the Munchkins got drunk and ran amuck in Hollywood, the original Tin Man, Buddy Ebsen, was hospitalised for six months severely ill through the silver makeup, and Margaret Hamilton caught fire in an on-set accident in the scene where she disappears in a cloud of smoke.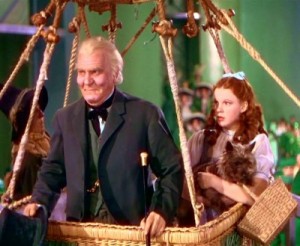 But our story has a happy ending. Eventually, Ebsen became a hit on TV in The Beverly Hillbillies, Hamilton made a fortune in TV ads on 50s television cashing in on her Wicked Witch persona and Garland's ruby slippers (originally silver shoes) were sold at MGM's 1970 auction of all its historic goodies for $15,000. In 2005, one of Garland's six identical dresses made for the movie was sold at auction for $252,000.
L Frank Baum's source book The Wonderful Wizard of Oz was first filmed in 1925 and reworked in 1978 as the musical version The Wiz. There are two movie sequels – Back to Oz and Return to Oz – and in 2013 we had the prequel Oz the Great and Powerful in 3D. That's Entertainment 3 contains a precious cut sequence with the Scarecrow (Bolger) from the film. Unusually, MGM studio boss Louis B Mayer was personally the executive in charge of production. Restored in 1998.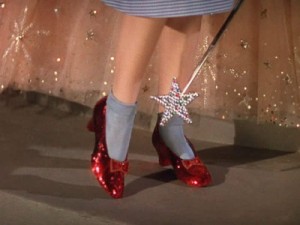 A pair of real ruby slippers was made to celebrate the film's 50th birthday in 1989, worth $3million.
Baum came up with the name when looking at his filing cabinets: A-N, O-Z.
http://derekwinnert.com/oz-the-great-and-the-powerful-review/
© Derek Winnert 2013  Classic Movie Review 14 derekwinnert.com
Link to Derek Winnert's home page for more film reviews: http://derekwinnert.com/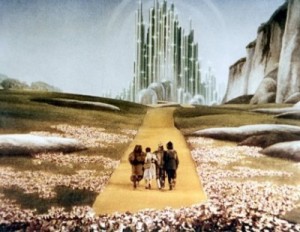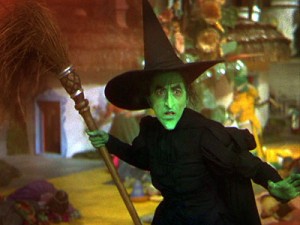 Margaret Hamilton (1902-85).