The Wisdom of Crocodiles [Immortality ] **** (1998, Jude Law, Elina Löwensohn, Timothy Spall, Jack Davenport) – Classic Movie Review 381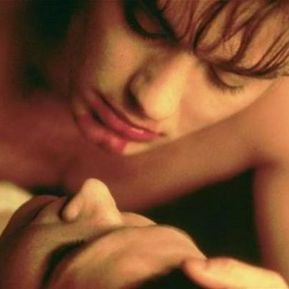 Written by Paul Hoffman and directed by Po-Chih Leong, this deliciously sleek, creepy and romantic 1998 vampire thriller is set in contemporary London. There the handsome scoundrel and seducer, Steven Grlscz (Jude Law), is on the prowl for the perfect woman of his nightmares, the one who hopefully will redeem him.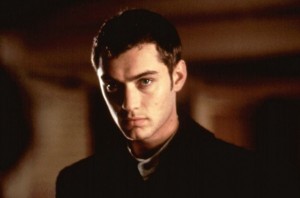 Of course, because he's a vampire, all of his relationships are going to end tragically. But then, after a while, he meets Anne Labels (Elina Löwensohn), a lovely, strong-willed woman and a class above the rest. And it emerges that only one of them will survive this relationship.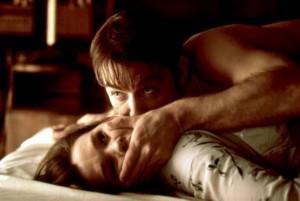 The suitably seductive young Law is ideally cast – and at his most alluring. Löwensohn is just right as the woman that Law wants. These are two posh, full-blooded performances, helping the movie to be thoroughly enjoyable.
Meanwhile Timothy Spall is very entertaining in a gloriously quirky, hammy turn as Inspector Healey, the police inspector on the case. Well, we can't just have vampires going around killing folk in London when they feel like it, can we?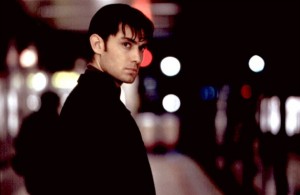 It's like Spall is playing in a different film entirely, an old British B-movie thriller. So his performance shouldn't really work or gel with the rest. But somehow it does. And it adds greatly to the film's oddness as well as entertainment value.
Jack Davenport also has a little bit to do as Spall's fellow officer Sergeant Roche. And Colin Salmon, Kerry Fox, Stuart Bowman, Anastasia Hille, Nick Lamont, Joseph O'Conor, Ashley Artus and Antony Cotton are also in the cast.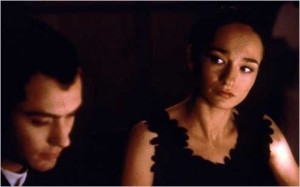 The title refers to a quote from Francis Bacon, who wrote about crocodiles who shed tears when they devour their prey.
© Derek Winnert 2013 Classic Movie Review 381
Check out more reviews on derekwinnert.com