The White Sheikh [Lo Sceicco Bianco] **** (1952, Alberto Sordi, Brunella Bovo, Leopoldo Trieste, Giulietta Masina) – Classic Movie Review 5510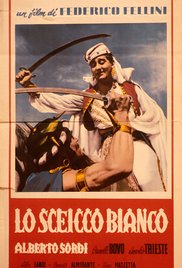 This early Federico Fellini 1952 movie, his first as writer and sole director (after jointly filming 1951's Lights of Variety), is an extremely eye-catching and highly diverting triumph.
It focuses on a Rome honeymooning couple, Wanda and Ivan Cavalli (Brunella Bovo, Leopoldo Trieste), who find trouble in paradise when the bride sneaks out of their hotel room and passes most of her days and nights with a handsome magazine pinup Fernando Rivoli, aka The White Sheikh (Alberto Sordi).
Though based on a story co-written by Michelangelo Antonioni, and containing many of his obsessions too, (as well as Tullio Pinelli and Fellini), this is a true Fellini film ('Un Film di Federico Fellini', says the poster) and the one where the enchanting world of Fellini starts off in the cinema. The screenplay is by Fellini and Pinelli, with Ennio Flaiano as collaborator.
It is shot in black and white by Arturo Gallea, produced by Luigi Rovere and scored by Nino Rota. Also in the cast are Lillia Landi, Ernesto Almirante, Fanny Marchio, Gina Mascetti, Enzo Maggio, Nino Billi and Ettore Margadonna.
Fellini's wife Giulietta Masina pops in briefly as hooker Cabiria, later to be the star character in her own movie, Fellini's Nights of Cabiria (1957).
Sordi and Trieste both star in Fellini's second solo film, I Vitelloni (1953).
© Derek Winnert 2017 Classic Movie Review 5510
Check out more reviews on http://derekwinnert.com