The White Balloon [Badkonake sefid] **** (1995, Aida Mohammadkhani, Mohsen Kafili, Fereshteh Sadre Orafaiy) – Classic Movie Review 4226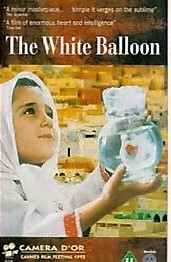 Director Jafar Panahi's intense Iranian winner of the 1995 Camera D'Or at the Cannes Film Festival is a nice try at something intelligent and different. This much admired film from Iran is well made and distinctly unsettling. Cleverly, the little girl at the centre of the film isn't made remotely appealing.
But much patience is needed for its tale about a little seven-year-old girl called Razieh (Aida Mohammadkhani) and her attempts to buy a fat pet goldfish before the Iranian New Year celebration begins.
If this were a Hollywood picture, it would be a sentimental Disney film and the girl would be cute. Here there is a tough tone and a tough tyke for those who have a serious take on childhood and a sombre view of the world.
With a screenplay by Abbas Kiarostami, from an idea by Panahi and Parviz Shahbazi, The White Balloon is subtle and revealing, disturbing and troubling. But, excellent though it is, obviously this challenging film for adults is not exactly a barrel of laughs.
It features Aida Mohammadkhani, Mohsen Kafili (as Ali) and Fereshteh Sadre Orafaiy (Mother).
aged 76.
© Derek Winnert 2016 Classic Movie Review 4226
Check out more reviews on http://derekwinnert