The Whales of August ***** (1987, Bette Davis, Lillian Gish, Vincent Price, Ann Sothern) – Classic Movie Review 125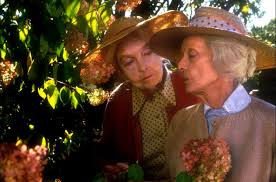 An incredibly sprightly 94-year-old Lillian Gish (who held the record as the oldest actor in a leading role), Bette Davis (aged 79) and Vincent Price (76) are wonderful in this exquisitely lovely, beautifully moving 1987 film.
Director Lindsay Anderson provides a marvellous showcase for the tenacious talents of these veterans actors. Age may have slightly withered them, but nothing stops them giving show-stopping turns.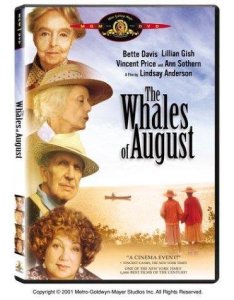 Two elderly sisters – angry Libby Strong (Davis), sweet Sarah Webber (Gish) – argue as they recall the old days on their Maine island summer home. In the changing world, whales no longer come close to the shore. People pop in: caretaker Joshua Brackett (Harry Carey Jr), smooth old Russian count Mr Maranov (Vincent Price) and neighbour Tisha Doughty (Ann Sothern).
The movie starts in black and white with a flashback to the three ladies in their salad days, at this point played by Mary Steenburgen (Young Sarah), Margaret Ladd (Young Libby) and Tisha Sterling (Sothern's daughter as the young version of her real mother's character, Tisha).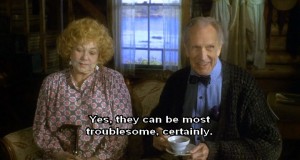 With a screenplay based on his own stage play by David Barry, it's all talk and nothing happens, so it could just as easily have been a filmed stage play but Anderson ensures it's a real film and that it's a total delight.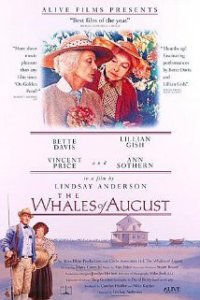 The Whales of August is British director Anderson's American debut. It proved to be the last film for both Gish and Sothern and Davis's penultimate one.
Anderson said to Gish while filming: 'Miss Gish, you have just given me the most marvellous close-up.' Davis interrupted: 'She should, she invented them!
© Derek Winnert 2013 Classic Movie Review 125
Check out more reviews on http://derekwinnert.com/