The Wasp Woman ** (1959, Susan Cabot, Anthony Eisley, Barboura Morris, Michael Mark, William Roerick, Frank Gerstle, Frank Wolff, Bruno VeSota) – Classic Movie Review 3911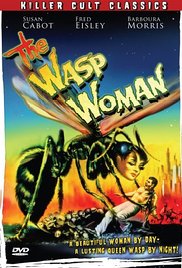 'A beautiful woman by day – a lusting queen wasp by night.'
Producer-director Roger Corman's ultra-low budget 1959 sci-fi horror film stars Susan Cabot as a thirtysomething cosmetic mogul called Janice Starlin, who agrees to plan to develop a youth formula from jelly taken from queen wasps. She then consents to be the first human to try the injections of the formula and uses mad and manipulative Dr Eric Zinthrop (Michael Mark)'s wasp enzyme serum to keep herself a lovely and young-looking beautiful woman by day.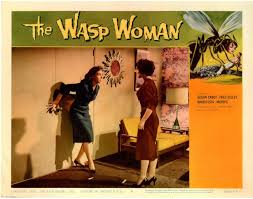 Unfortunately for her, but of course not for us, she stars having personality changes and has night spells of transmogrifying into the killer wasp monster title character and becomes the lusting queen wasp of the adverts by night.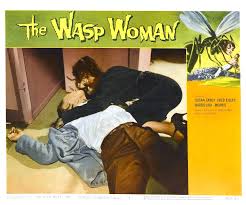 Corman's endearingly risible kitsch cult monster movie was not much good in the first place and naturally has worn none too well. Shot for $50,000 in just one week, The Wasp Woman is quite bad, but however it is still good for some silly laughs and to relish its naïve Fifties charm, ending up quite fun. And the ever-inventive and resourceful Corman proves himself the master of creating something out of nothing.
Also in the cast are Anthony Eisley, Barboura Morris, William Roerick, Frank Gerstle, Frank Wolff and Bruno VeSota.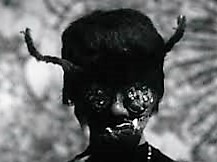 Corman reflected: 'I read an article once about some sort of rejuvenation cream made from queen bees, so I decided to build a story round that. I thought Susan Cabot gave a very nice performance.'
Roger Corman has an uncredited cameo as the doctor in the hospital and Gene Corman plays Mr Barker.
It was remade for TV by director Jim Wynosrki in 1995, starring Jennifer Rubin.
© Derek Winnert 2016 Classic Movie Review 3911
Check out more reviews on derekwinnert.com