The Vikings **** (1958, Kirk Douglas, Tony Curtis, Ernest Borgnine, Janet Leigh, James Donald, Alexander Knox, Maxine Audley, Frank Thring) – Classic Movie Review 143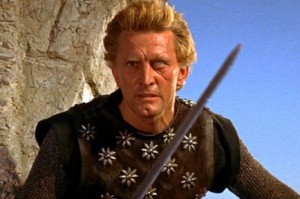 Kirk Douglas, Tony Curtis, Ernest Borgnine and Janet Leigh are all in their glorious prime in this exciting, top-quality period adventure hokum from 1958.
Douglas (Einar) and Curtis (Eric) fight it out with vicious abandon in a most dynamic, handsomely mounted Norse saga about the Vikings' invasion of England. Einar's a great Viking warrior and Eric's an ex-slave, unwittingly half-bothers, who compete for the throne of Northumbria and for the hand of the lovely Welsh princess Morgana (Leigh). Borgnine is the men's father, Ragnar.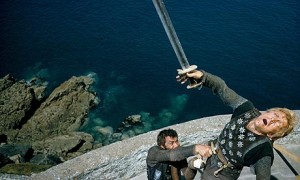 Richard Fleischer provides the resolute, painstaking direction, delivering a tough-toned, highly entertaining movie that's aged well and is a regular on afternoon TV in the UK. The Vikings is splendid, evergreen popular entertainment, distinguished with convincing acting, elaborate battle scenes, and elaborately achieved graphic details of Viking life and legends.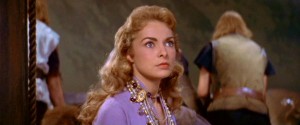 It's an especially handsome-looking movie, with atmospheric location cinematography in lovely Technicolor and wide screen by Jack Cardiff, filming in Norway and France. Basing their work on the factually based novel by Edison Marshall, Calder Willingham and Dale Wasserman provide a literate screenplay with not too many duff lines to challenge the actors.
OK, they've made Douglas much less of a sadistic monster than in the book and Leigh isn't very Welsh, but it's only a movie and they're very effective anyway.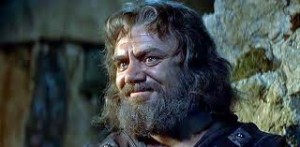 The characteristic voice on the soundtrack is that of Orson Welles, who narrates commandingly. For insurance reasons, a stuntman stands in for Douglas as Einar jumps across a moat and grabs onto axes on the drawbridge door.
It co-stars James Donald, Alexander Knox, Maxine Audley and Frank Thring.
© Derek Winnert 2013 Classic Film Review 143 derekwinnert.com