The Vampire Lovers *** (1970, Ingrid Pitt, Peter Cushing, Madeline Smith, Kate O'Mara, Dawn Addams, Pippa Steel, George Cole, Douglas Wilmer) – Classic Movie Review 3155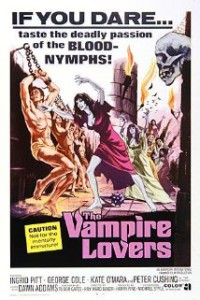 'An erotic nightmare of tormented lusts that throb in headless, undead bodies!'
Director Roy Ward Baker's 1970 British horror movie stars Ingrid Pitt as Carmilla Karnstein, a late 18th century German Lesbian vampire who ingratiates herself into the home of General von Spielsdorf (Peter Cushing) and sinks her fangs into toothsome lovelies Laura (Pippa Steel), Emma Morton (Madeline Smith), The Countess (Dawn Addams) and The Governess, Madame Perrodot (Kate O'Mara).
Hammer Films' erotic chiller, based on J Sheridan Le Fanu's Carmilla, is highly intriguing, with several tasty elements to recommend it, including a sensuous performance by Pitt, Cushing's convincing star turn as a puritanical patriarch, plus George Cole and Douglas Wilmer especially good value as the vampire hunters.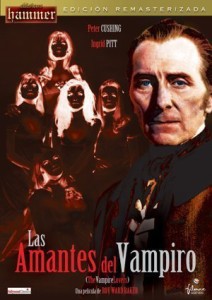 However, director Baker shifts uneasily between soft core sex and Grand Guignol horror, and the screenplay seems uncomfortable with its Sapphic sexuality. Still, it's an interesting one, written in fine style by Harry Fine, Michael Style and Tudor Gates. Also in the cast are Jon Finch, Charles Farrell, Ferdy Mayne, Kirsten Lindholm, John Forbes-Robertson, Shelagh Wilcocks, Janet Key and Harvey Hall.
It is the first of Hammer Films' three movies derived from J Sheridan Le Fanu's book Carmilla or at least its characters, all scripted by Tudor Gates: followed by Lust for a Vampire (1971) and Twins of Evil (1971).
Le Fanu's famous story also provided the basis for the classic Vampyr (1932) and Blood and Roses [Et mourir de plaisir] (1960) as well as Christopher Lee's Crypt of the Vampire (1964).
Cole and Wilmer both appeared in Cleopatra (1963).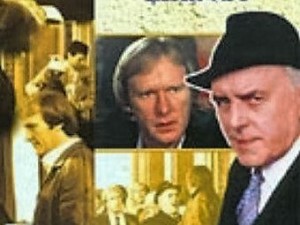 George Cole died on August 5 2015, aged 90. For ever Arthur Daley on TV's Minder, he enjoyed a lengthy film career, appearing in the likes of Cleopatra (1963), Mary Reilly (1996) and The Vampire Lovers, and was well known for his role as Flash Harry in the popular St Trinian's films of the Fifties and Sixties, starting with The Belles of St Trinian's (1954).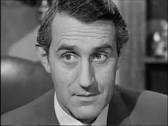 Douglas Wilmer died on 31 aged 96. He was known for Cleopatra (1963), Octopussy (1983), Patton (1970), Jason and the Argonauts (1963), The Golden Voyage of Sinbad (1973), The Vampire Lovers (1970), The Brides of Fu Manchu (1966), The Vengeance of Fu Manchu (1967) and especially as Sixties TV's Sherlock Holmes.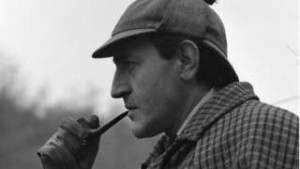 © Derek Winnert 2015 Classic Movie Review 3155
Check out more reviews on http://derekwinnert.com