The Undead *** (1957, Pamela Duncan, Richard Garland, Allison Hayes, Billy Barty) – Classic Movie Review 3986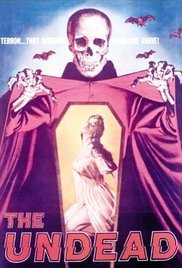 This 1957 American International Pictures horror movie is an unexpected surprise success from director Roger Corman's conveyor belt of ultra-low-budget suspense thrillers. It was filmed in a refurbished supermarket in 10 days for just $70,000.
Pamela Duncan stars as Diana Love, a Fifties prostitute who visits a psychiatrist called Pendragon (Richard Garland) and in a trance goes back in time to the Middle Ages when she was burned as a witch and has to do battle with the forces of darkness.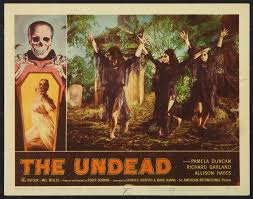 Charles B Griffith and Mark Hanna's darkly comedic screenplay, with a mass of Freudian mumbo-jumbo, throws up some genuinely spooky moments. And it is easy to accept Corman's ragged, rough and ready production.
Allison Hayes gives a spellbinding performance as a witch (Livia), Billy Barty is nimble as a dwarf (The Imp) and Richard Devon impresses as the Devil (Satan). Also in the cast are Val Dufour, Dorothy Neumann, Mel Welles, Dick Miller (as The Leper), Maurice Manson, Aaron Saxon, Don Garrett and Bruno VeSota.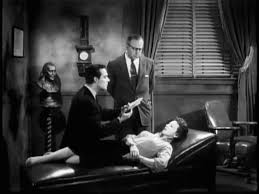 Corman recalls: 'I seemed to have a little more control on this one. We didn't have the money to rent a really large studio.'
It was released in a double bill with Voodoo Woman (1957).
© Derek Winnert 2016 Classic Movie Review 3986
Check out more reviews on http://derekwinnert.com