The Triple Echo [Soldier in Skirts] *** (1972, Glenda Jackson, Oliver Reed, Brian Deacon) – Classic Movie Review 4278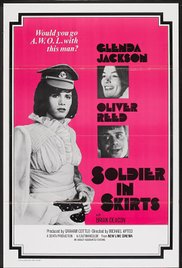 Michael Apted directs this intriguing 1972 British film adaptation of an H E Bates story set in Wiltshire during World War Two.
In his film debut, 23-year-old Brian Deacon stars as Barton, a young English soldier who begins an affair with Alice (Glenda Jackson), whose husband is a Japanese prisoner-of-war. But complications arise when Deacon decides to desert from the army and has to go into hiding to stay with Alice. Jackson disguises him as her sister and all is well until he catches the eye of a randy army sergeant (Oliver Reed) who comes to the farm.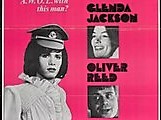 At this point the film veers from subtle, well observed romantic drama to rough and raw comedy and then moves on again to end in tragedy, losing a great deal of its appeal as it abandons its gentle tone for uncomfortable humour and final climactic violence as Barton goes to the army base Christmas dance with the sergeant.
It is an involving story, the countryside looks pretty as shot by photographer John Coquillon, and the well-cast actors are on good form. However, it turns into a curiously lifeless, sluggishly handled piece that never lives up the promise of its early scenes.
Also in the cast are Gavin Richards, Jenny Lee Wright, Anthony May, Ken Colley, Zelah Clarke, Colin Rix, Ioan Meredith and Daphne Heard.
© Derek Winnert 2016 Classic Movie Review 4278
Check out more reviews on http://derekwinnert