The Toxic Avenger Part II ** (1989, Ron Fazio, John Altamura, Phoebe Legere) – Classic Movie Review 4378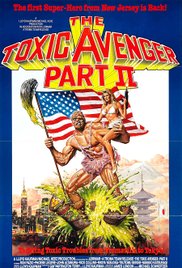 Producers-directors Michael Herz and Lloyd Kaufman's 1989 horror spoof sequel is often surprisingly funny, avoiding the trap of being simply stupid that is the fate of most movies of this kind. Some dull patches keep it down, but for most of the time it is fast paced and fun, with plenty of hilarious one-liners, some ludicrously over-the-top gore, and lots of silly acting.
Ron Fazio returns as the weedy janitor who fell into a barrel of toxic waste and turned into superhero Toxie, this time taking on the evil Japanese conglomerate Apocalypse Inc that is causing big trouble in little Tromaville. They want to destroy the home for the blind where Toxic is working to build a toxic chemical depot, so they lure him to Japan to look after his long-lost dad Big Mac (Jack Cooper).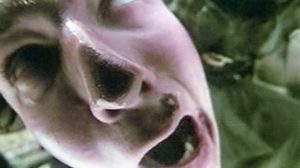 Also in the cast are John Altamura, Phoebe Legere, Rich Collins, Rikiya Yasuoka, Tsutomu Sekine, Mayako Katsuragi, Jessica Dublin and Lisa Gaye.
It is written by Gay Partington Terry and Lloyd Kaufman.
It was made together with The Toxic Avenger Part III – The Last Temptation of Toxie.
© Derek Winnert 2016 Classic Movie Review 4378
Check out more reviews on http://derekwinnert.com