The Toxic Avenger *** (1984, Andrée Marander, Mitchell Cohen, Pat Ryan, Mark Torgl) – Classic Movie Review 4380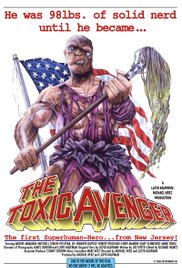 Nerdy mop boy janitor Melvin Junko (Mark Torgl) falls into a vat of toxic nuclear waste and new superhero 'old goo-goo eyes' is born. And then, as The Toxic Avenger (Mitchell Cohen), he sets out to save the inhabitants of Tromaville from evildoers and corruption.
Producers-directors Michael Herz and Lloyd Kaufman's cheapo 1984 horror spoof is likeably quirky, mildly funny low-budget entertainment for horror fans, with a suitably silly script, some funny one-liners, some good action and stunts, and some amusingly lame special make-up effects.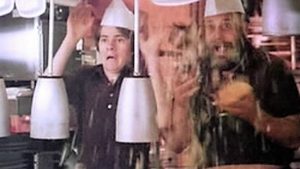 Perhaps it is not funny, frightening or sharp enough to succeed or entertain fully but as a novelty it is fair enough and has carved out for itself a little reputation as a Troma cult classic.
Director Lloyd Kaufman is credited as Samuel Weil.
Also in the cast are Andrée Marander, Pat Ryan, Jennifer Baptist, Cindy Manion, Robert Prichard and Gary Schneider.
There are three versions, running (R-rated) and 
It is followed by two sequels, The Toxic Avenger Part II (1989) and The Toxic Avenger Part III – The Last Temptation of Toxie (1989).
© Derek Winnert 2016 Classic Movie Review 4380
Check out more reviews on http://derekwinnert.com