The To Do List ** (2013, Aubrey Plaza, Johnny Simmons, Bill Hader, Alia Shawkat, Rachel Bilson, Sarah Steele, Andy Samberg, Scott Porter, Christopher Mintz-Plasse) – Movie Review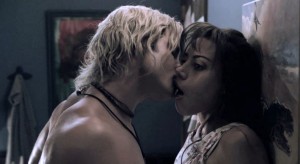 Aubrey Plaza stars as sexually inexperienced Brandy Klark, who makes a list of sex things to accomplish before she goes to college. Alia Shawkat, Rachel Bilson and Sarah Steele are the other key players.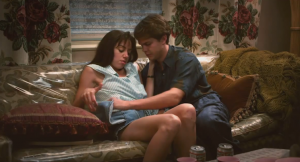 Packed with gross-out sex jokes and cringe-worthy sex scenes, this is a surprisingly mucky comedy, borderline filthy at times, though it does have some charm and a welcome air of truth and reality too. It's squarely aimed at teenage girls and young women, who'll be laughing their socks off (mainly in embarrassment probably!) if the press preview was anything to go by.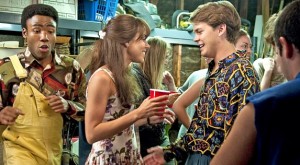 I can't see teenage boys and young men enjoying it quite so much. But they might tag along obediently with their girlfriends. Even so, it's best as a girls' night out movie.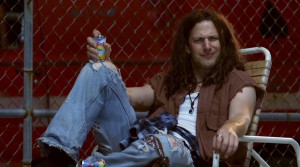 The film depends on your liking for the characters and the actresses playing them. The writer-director is a bit in love with them, as I guess you would be. That restricts her distance and judgement but greatly increases her enthusiasm. She hopes you'll share her love for them and maybe you will, even if they can seem quite selfish, self-obsessed and annoying much of the time.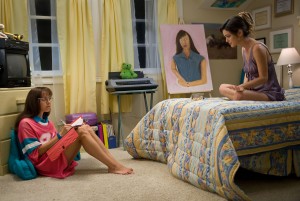 It's written and directed by Maggie Carey, in her enterprising and promising first feature film. Commendably, it feels like a quirky personal project, not one of those soulless comedies written by committee. There's a lot of warmth somewhere behind the smut. I can't help feeling, though, that it would have been a better movie if it was just a little cleaner and sweeter.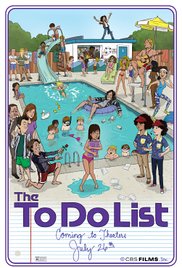 Carey's husband is the likeable actor Bill Hader, who amusingly plays the amiable layabout Willy in the film. The actors don't have such good opportunities as the actresses in Carey's script, with their roles notably less well written. But Johnny Simmons (as Cameron, the cute boy next door), Andy Samberg (the long-haired hippy Van), Scott Porter (as Rusty Waters,  the hunky lifeguard) and dorky Christopher Mintz-Plasse (as Duffy) all bring something special to the table.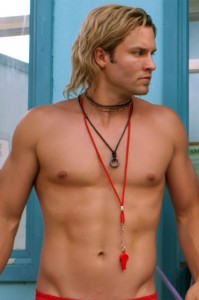 It would be interesting to see a sequel with the story told from the men's point of view, and with the women sidelined this time, maybe written and directed by Carey's husband, with her in an acting role.
© Derek Winnert 2013 Movie Review
Check out more reviews on http://derekwinnert