The Thing From Another World ***** (1951, Kenneth Tobey, Margaret Sheridan, James Arness) – Classic Movie Review 54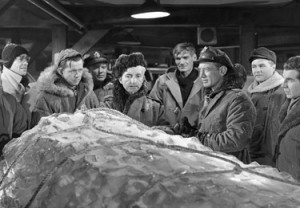 'Watch the skies, everywhere! Keep looking. Keep watching the skies!'
This distinguished, influential and imaginatively staged 1951 vintage sci-fi horror thriller, remade by John Carpenter with Kurt Russell as The Thing in 1982, is still a benchmark for style and tension in the chiller genre.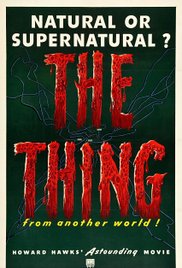 Long before playing Matt Dillon in TV's long-running Gunsmoke (1955-75), the incredibly tall James Arness (6' 7") plays The Thing, a carrot-like looking alien who's found in a UFO spacecraft buried in the ice, then brought back into the craft but thawed out in error by American scientists at an Arctic research base. And then, of course, he goes rampaging…
Unfortunately it is an unrewarding role for Arness as he is kept off stage a lot of the time. But the film is rewarding for Kenneth Tobey. It is finest hour in a long career in the movies, for once enjoying the sterling lead turn as Captain Patrick Hendry.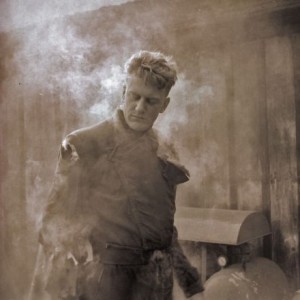 Charles Lederer's screenplay is adroit and capable, though it changes a lot of the details and plot of the short source novel it is based on, John W Campbell Jnr's Who Goes There?, and the excellent Carpenter version is more faithful.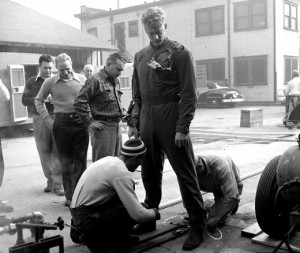 The authorship of the film is disputed. Though it is directed by Christian Nyby, trademarks of the producer Howard Hawks can be seen in the portrait of men under stress at their Arctic base, the rapid dialogue and the no-nonsense. visual style. It was certainly a pet project of Hawks, who was on set much of the time. RKO even advertised it as 'Howard Hawks' Astounding Movie'.
Arness maintained that Nyby directed the film, but Tobey claimed that Hawks did. Nyby agreed that Hawks was the 'guiding hand', but then that is what a producer's job is.
In any case, the direction, production, performances, and music by Dimitri Tiomkin are all highly impressive, making for classic sci-fi chills.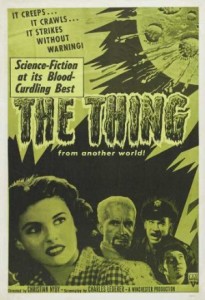 The scene with the flying saucer in the frozen ice was filmed at the RKO Studios ranch in 100 degrees Fahrenheit. But filming at Glacier National Park and a storage plant in LA provided the needed realism. Wearing an asbestos suit and fibreglass helmet, veteran stuntman Tom Steele stood in for Arness, was soaked in kerosene and set on fire.
Since the helmet had combustible oxygen inside, he was lucky to survive, but he had heroically performed the movies' first full body burn. No movie is ever worth risking a man's life for. CGI has improved quality of life, but put stuntmen out of work.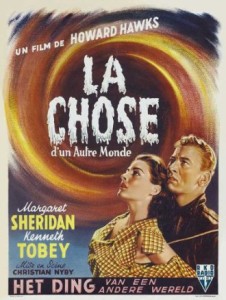 Hilariously, the US Air Force refused co-operation on the grounds that it would be contrary to the United States Government's official view that flying saucers did not exist!
The full movie runs 87 minutes but there is a cut re-release version that runs only 79 minutes, and unfortunately this cut print is the one that was colorized in 1989 for video release.
Also in the cast are Robert Cornthwaite, Douglas Spencer, Dewey Martin, William Self and George Fenneman.
© Derek Winnert 2013 Classic Movie Review 54
Check out more reviews on derekwinnert.com