The Thing ***** (1982, Kurt Russell, Wilford Brimley, Keith David, Richard Dysart, Richard Masur, Donald Moffat, David Clennon) – Classic Movie Review 53
Director John Carpenter's stylish and classy 1982 remake of director Christian Nyby and producer Howard Hawks's 1951 horror classic The Thing From Another World sizzles with menace, atmosphere and tension. It's a great monster movie.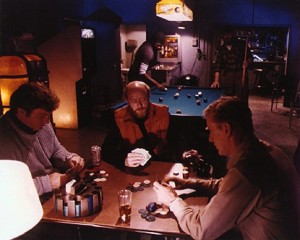 A bearded Kurt Russell gives an excellent, intense performance as R J MacReady, the leader of an all-male band of Antarctic researchers battling against a shape-shifting alien that's taking on the appearance of its victims. Wilford Brimley leads a bunch of fine performances from distinguished character actors of the day – Richard Dysart, Richard Masur, Keith David, Donald Moffat, T K Carter and David Clennon.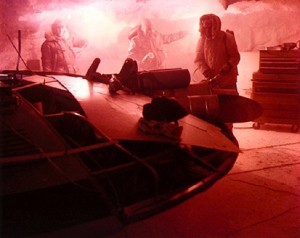 It's essential ingredient of its success that the movie can boast some of the most spectacular creature effects then seen on film, thanks to Rob Bottin's brilliant, gory special makeup effects (he was only 22 at the time) and Albert Whitlock's visual effects. Stan Winston also helped out on the makeup effects.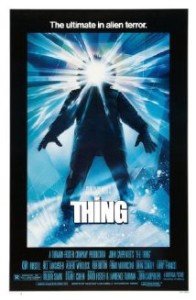 Adapting John W Campbell Jnr's short novel Who Goes There?, Bill Lancaster's screenplay obviously required a fresh coat of paint and the main thing needed was to change the Cold War thriller nature of the 1951 original and update it into a sophisticated trip to the dark side of what was in the 80s the new area of body horror with the theme of man's greatest enemy comes from within.
More mysteriously, it also swaps the locale from the North Pole to the South Pole. However, they did keep a replica of the opening title of the original movie, as an homage.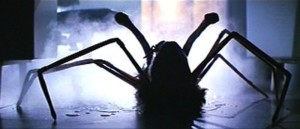 Director Carpenter is working on his top form in this bleak and gruesome but always scary, engrossing and undervalued chiller. Dean Cundey's cinematography on chilly polar landscapes, both real and in the studio, is especially imaginative.
Ennio Morricone's eerie, low-key score adds even more to the menace, atmosphere and tension, and there's a fine, costly-looking mainstream production, with imaginative sets designed by John J Lloyd. Indeed, it was expensive for a horror movie in those days, at $10million.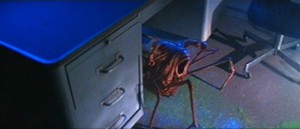 After three months filming in the studio in LA, where the six sound stages were refrigerated to 40 degrees F when it was 100 degrees F outside, the unit headed for location work in British Columbia, where it was sometimes minus 15 degrees F. The only female presence in the film is the voice of MacReady's computer – that of Carpenter's wife, Adrienne Barbeau.
With sour grapes, Christian Nyby unfortunately denounced his successor's version here.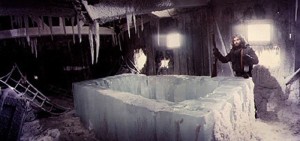 This is Carpenter's favourite of his movies. He was bewildered by its box-office and critical failure, but time has turned round its reputation and fortunes. Just like Blade Runner, which opened on the same day.
Beware: British TV may show unsatisfactory heavily cut American TV version, running 97 minutes instead of 109. Remade in 2011.
© Derek Winnert 2013 Classic Movie Review 53
Check out more reviews on http://derekwinnert.com