The Thief of Bagdad ***** (1940, Conrad Veidt, Sabu, June Duprez) – Classic Movie Review 39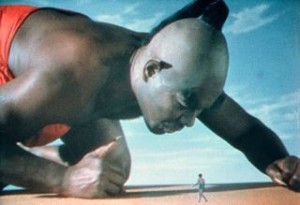 Remaking Douglas Fairbanks Sr's 1924 silent movie classic, The Thief of Bagdad, producer Alexander Korda's brilliantly thrilling and gorgeous 1940 Arabian Nights fantasy gem overflows with dazzling magic, eye-popping designs and appealingly eccentric performances, and is topped off with a catchy, eloquent score by Miklos Rozsa. It is one of the gleaming glories of British cinema.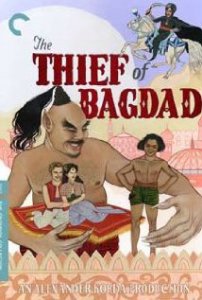 In the delightful story based on the book The 1001 Nights tales, The wicked grand vizier of Bagdad has thrown the good Prince Ahmad into prison, but there he meets a wily young thief who, after they escape together, sets out to help him regain his crown by outwitting the vizier and to gain the hand of the princess he loves.
Too little known now, the cast was once legendary: Conrad Veidt as the grand vizier Jaffar, Rex Ingram as the genie Djinni, John Justin as Ahmad, June Duprez and Sabu as the thief Abu. They all give perfect, charismatic performances, etching their way into cinema history.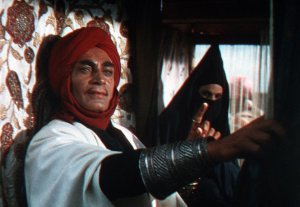 A labour of love and a work of art as well as a great popular entertainment, it took 20 months to make, starting in Britain's Denham Studios and finishing after a lengthy gap in California when war broke out and London was blitzed by the Germans. By this time, the 16-year-old Indian boy Sabu had grown considerably and his scenes were reshot to match the new footage. Sabu died in 1963 of a sudden heart attack, aged only 39.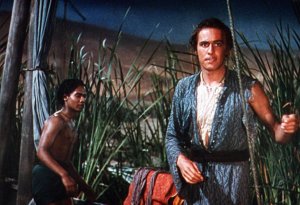 The enormous task of filming was supervised by the credited directors (Michael Powell, Ludwig Berger and Tim Whelan) plus four uncredited (Geoffrey Boothby, Zoltan Korda, William Cameron Menzies and Alexander Korda). But the script was mostly by one hand – that of famed character actor Miles Malleson, who wrote the adaptation and dialogue (along with Lajos Biro) and has a cameo role as the Sultan.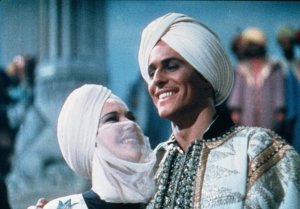 It deservedly won three Oscars, including Best Colour Cinematography, Best Special Effects (including sound effects) and Best Art Direction (Vincent Korda).
The special effects (by Lawrence Butler and Jack Whitney) still look great, especially the flying carpet sequence and the battle with a giant spider. The glorious Technicolor hasn't faded one bit, and nor does the pleasure the movie brings.
Duprez inherited her role from Vivien Leigh, who went to America to film Gone with the Wind instead. It was Justin's debut.
Remade in 1960 with muscleman Steve Reeves, and in 1978 with Roddy McDowall, Peter Ustinov and Terence Stamp.
© Derek Winnert 2013 Classic Movie Review 39
Check out more reviews on http://derekwinnert.com/