The Tender Trap *** (1955, Frank Sinatra, Debbie Reynolds, David Wayne, Celeste Holm, Carolyn Jones, Lola Albright, James Drury) – Classic Movie Review 4758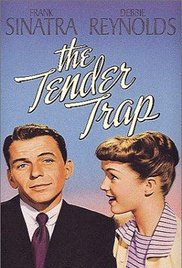 Director Charles Walters's bubbly 1955 MGM comedy stars Frank Sinatra as rich New York playboy bachelor Charlie Reader, a successful theatre agent who is trapped by the tender young actress Julie Gillis (Debbie Reynolds).
Charlie is visited by his old buddy Joe McCall (David Wayne), who falls in love with Charlie's girl Sylvia Crewes (Celeste Holm), though he is married with three children, while Charlie spends his time with Julie.
Good though Sinatra and Reynolds both are, as expected, they are upstaged in the comedy playing by scene-stealing David Wayne and Celeste Holm.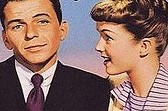 Based on Max Shulman's and Robert Paul Smith's stage hit, it is wittily written as a screenplay by Julius J Epstein, who was nominated for the 1956 Writers Guild of America USA's Best Written American Comedy. The chart-topping title song standard '(Love Is) the Tender Trap' by Jimmy Van Heusen (music) and Sammy Cahn (lyrics), which is sung of course by Sinatra, was Oscar-nominated. It one of ol' blue eyes's best.
Sinatra continued to sing the catchy and appealing song throughout his career. It is performed in a pre-credits sequence by Sinatra, but also sung by Reynolds in a lacklustre way that Sinatra corrects, and again at the end of the film by the four stars.
Also in the cast are Carolyn Jones, Lola Albright, James Drury, Jarma Lewis, Howard St John, Joey Faye, Tom Helmore, Willard Sage, Marc Wilder, Jack Boyle, Madge Blake, Hugo Haas, Frank Sully, Reginald Simpson and Benny Rubin.
Just so we know who is trapping whom, The Tender Trap is advertised as 'What every girl sets for every man'.
Cinematographer Paul Vogel shoots it in CinemaScope and Eastman Color.
It was a hit. Costing $1,274,000, it earned $4,495,000, and recorded a $1,410,000 profit.
It was Sinatra's first film at MGM six years after On the Town. The second film he made with his new MGM contract, Guys and Dolls, was released one day before The Tender Trap on 3 November 1955.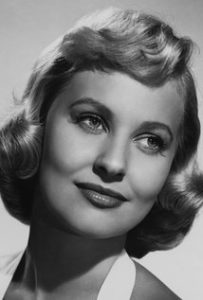 RIP sulty, smoky, charming Lola Albright, who died on 23 March 2017, aged 91.
© Derek Winnert 2016 Classic Movie Review 4758
Check out more reviews on http://derekwinnert.com