The Survivors ** (1983, Walter Matthau, Robin Williams, Jerry Reed) – Movie Review 4170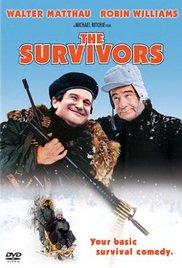 The young, frenzied ball of fire comic Robin Williams (just 32) works well in his manic performance with the contrasting laid-back style of the laconic Walter Matthau in director Michael Ritchie's haphazard, far-out 1983 darkly comic survivalist tale of two unemployed guys up to their necks in trouble when they identify a criminal. Williams said: 'I like the basic premise – if we stick together it will all work out.'
Sonny Paluso (Matthau) and Donald Quinelle (Williams) are strangers who have both lost their jobs and become unlikely friends after a run-in with a would-be robber, whom they prevent from holding up a bar. But the bad guy Jack Locke (Jerry Reed) gets away, sees Donald's face on TV and decides to go after the two of them. With Donald obsessed with guns, they literally take to the hills, arm themselves to the teeth and wait for the worst to happen from the hitman with a grudge against both of them.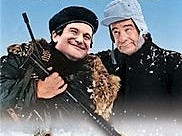 Despite the interesting setup, director Ritchie can't really make Michael Leeson's weak, farcically toned script into the quirkily funny, odd couple movie that he so obviously is aiming at. Ritchie is good at combining humour with social commentary but there isn't really enough of either, not enough of anything special anyway. However, the movie is worth while for the attractive teaming of Matthau and Williams and their appealing star turns.
Alas, it was a box office flop in the United States, so it went straight to video in Britain.
Also in the cast are James Wainwright, Kristen Vigard, Annie McEnroe, Anne Pitoniak and John Goodman in an early role as a commando at the military store.
Producer William Sackheim came up with the film's idea. He said the people who practise survivalism 'flee to the hills and don't trust anybody, including each other. There's a kind of madness about it. Somehow it struck me as a very funny idea for a comedy.'
Williams explained the star chemistry: 'You've got me, who, I guess, specialises in frenetic and bizarre energy. You've got Walter Matthau, who's very grounded and subtle. And then you've got Jerry Reed, whose character is like a cross between Mister Rogers and Jack Nicholson. He's a lovable villain.'
Matthau also made with The Bad News Bears (1976) The Couch Trip (1988) with director Ritchie.
© Derek Winnert 2016 Classic Movie Review 4170
Check out more reviews on http://derekwinnert