The Sunshine Boys ** (1996, Woody Allen, Peter Falk, Michael McKean, Whoopi Goldberg) – Classic Movie Review 3931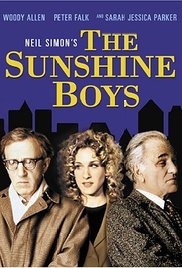 In 1996 we didn't actually need a new version of Neil Simon's perennial hit play about feuding vaudeville partners when there is already the nigh-on ideal 1975 film The Sunshine Boys with George Burns and Walter Matthau. But nevertheless, with Peter Falk and Woody Allen starring as Al Lewis and Willy Clark, all looked set fair.
However, hopes are largely dashed in this dour and downbeat, only occasionally amusing TV version that's mostly scuppered by shaky handling and a star partnership that, while it looks good on paper, in practice simply doesn't work very well.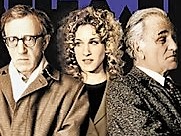 A bizarrely prosthetically aged Falk overdoes the elderly Jewish eccentric acting, while Allen seems strangely hesitant and out of place here. Where's the fun, the truth behind the comedy, the belly laughs? Where, come to that, is Whoopi Goldberg's screen credit as Falk's nurse? We should be told.
However, it is interesting as a curio, and valuable for Falk and the rare glimpse of Allen in somebody else's movie – it is produced and directed by John Erman. Neil Simon again provides his own script, like he did in 1975, this time updating his 1972 Broadway play as a film agent tries to recombine the aging ex-comedy duo Lewis and Clark, who angrily dissolved their act eight years ago, by getting them to overcome their differences to make a lucrative movie comeback.
Also in the cast are Michael McKean, Liev Schreiber, Edie Falco, Sarah Jessica Parker, Tyler Noyes, Olga Merediz, Andy Taylor, Jose Soto, Kirk Acevedo and Michael Badalucco.
© Derek Winnert 2016 Classic Movie Review 3931
Check out more reviews on http://derekwinnert.com