The Strange Woman ***½ (1946, Hedy Lamarr, George Sanders, Louis Hayward, Gene Lockhart, Hillary Brooke) – Classic Movie Review 4377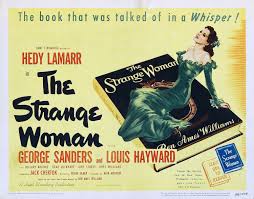 Hedy Lamarr grabs by the lapels her opportunity to shine as beautiful, poor wicked woman Jenny Hager, who marries rich old man Isaiah Poster (Gene Lockhart). But of course her heart doesn't belong to daddy. She makes a love slave of his son Ephraim Poster (Louis Hayward) and also ensnares his company foreman John Evered (George Sanders), who is engaged to her best pal Meg Saladine (Hillary Brooke).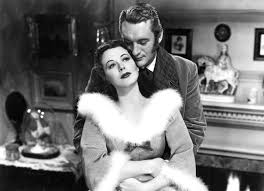 [Spoiler alert] Then she prompts Ephraim to kill his old man Isaiah. Yes, she has an eye to the Maine chance in 1820s New England timberland!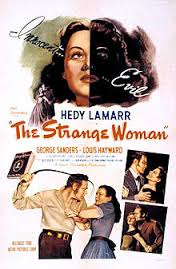 This swirling colourful, lip-smacking historical melodrama is Hedy stuff, indeed. It may be kitsch and preposterous but it is richly enjoyable thanks to the campy yarn, the surprisingly good production (with fine noir-style black and white cinematography by Lucien N Andriot) and the relishably unrestrained performances, which are especially well aimed in the circumstances.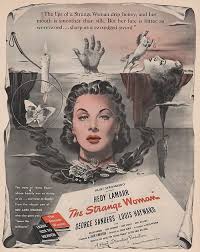 The acting is handled with much verve by Lamarr, in a masterly portrait of manipulative, and a strong ensemble of mostly British actors. The underestimated Lamarr delivers quite a tour-de-force and Sanders is in his element and highly entertaining.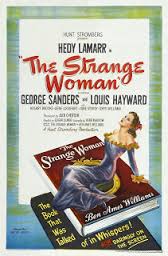 Edgar G Ulmer directs with flair and energy, and Hunt Stromberg contributes a plush production.
Ulmer, Stromberg and Herb Meadow pen the screenplay based on Ben Ames Williams's novel.
Also in the cast are June Storrey, Rhys Williams, Moroni Olsen, Olive Blakeney, Kathleen Lockhart, Alan Napier, Dennis Hooey, Jessie Arnold, Edward Biby, Ian Keith, Ray Teal, Katherine Yorke, Christopher Severn and Arianne Ulmer.
© Derek Winnert 2016 Classic Movie Review 4377
Check out more reviews on http://derekwinnert.com