The Story of Vernon and Irene Castle ***½ (1939, Fred Astaire, Ginger Rogers, Edna May Oliver, Walter Brennan) – Classic Movie Review 6017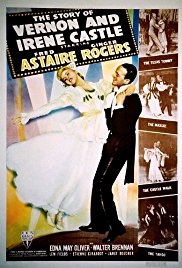 The last of Fred Astaire and Ginger Rogers's great series of musicals at RKO Radio Pictures (with a single reunion to come, The Barkleys of Broadway, at MGM a decade later) is a nostalgic biopic of an early 20th-century dancing duo, with the duo neatly cast as Vernon and Irene Castle.
Director H C Potter's 1939 movie is a pleasant mix of comedy and drama, with agreeable dance sequences in which the pair enjoy the dances of an earlier age: the cake-walk and the bunny-hug.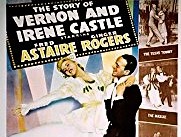 However, it has to be said that the life of Vernon and Irene Castle before World War One was not over-exciting and the pizzazz of Astaire and Ginger Rogers's earlier Thirties vintage movies is missing.
The songs include 'Waiting for the Robert E Lee', 'Too Much Mustard' and 'A Beautiful Doll'.
It is the last film of Roy D'Arcy, and the cast also includes Edna May Oliver, Walter Brennan, Lew Fields (as himself), Etienne Giradot, Donald MacBride, Janet Beecher, Rolfe Sedan, Leonid Kinskey, Robert Strange, Douglas Walton, Clarence Derwent, Sonny Lamont, Frances Mercer, Victor Varconi, Eugene Borden, Don Brodie, Marge Champion, Adrienne D'Ambricourt, Hal K Dawson, Elspeth Dudgeon, Dick Elliott, Ethel Haworth, Russell Hicks, George Irving, Dorothy Ovett, Louis Mercier, Frank Mills, Leonard Mudie, Bruce Mitchell, Esther Muir, Milton Owen, Jack Perrin, Fred Sweeney, Theodore von Eltz and Allen Wood.
It is written by Richard Sherman, Oscar Hammerstein II and Dorothy Yost, shot in black and white by Robert de Grasse, produced by George Haight and Pandro S Berman, scored by Victor Baravalle, designed by Van Nest Polglase, and choreographed by Hermes Pan. It is based on the book My Husband and My Memories of Vernon Castle by Irene Castle.
It was fairly costly at $1,196,000 and not too huge a hit at a $1,120,000 US gross, spelling the end of RKO's Astaire and Rogers musicals.
© Derek Winnert 2017 Classic Movie Review 6017
Check out more reviews on http://derekwinnert.com