The Spirit of St Louis **** (1957, James Stewart, Murray Hamilton, Marc Connelly, Patricia Smith) – Classic Movie Review 3927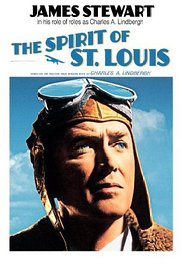 James Stewart stars in one of his most famous and warmly regarded roles in director Billy Wilder's spirited and lavish 1957 biography of aviator Charles A Lindberg, detailing his historic flight from New York to Paris in 1927.
Stewart had always wanted to play Lindberg but left it a bit late in life (he was 48) to make the movie and play Lindberg, and there were fears from the producers that Stewart was too old for the part. Nevertheless, he turns in a thrilling, archetypal performance.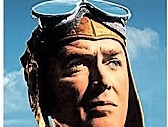 There's a surprising director for this sincere project in the normally cynical and playful Wilder, who said of the movie: 'I missed creating the character'. Perhaps he did, but he makes a grand job of the direction. This is an epic-length (135 minutes), mostly gripping, quality film, with lovely widescreen, colour photography (WarnerColor) by Robert Burks and J Peverell Marley, and a stirring score from the great Franz Waxman. However, it ended up a surprise, costly ($6 million) box-office flop, grossing a disappointing $2.6 million in the US.
Also in the cast are Murray Hamilton, Marc Connelly, Patricia Smith, Bartlett Robinson, Robert Cornthwaite, Sheila Bond, Harlan Warde, Dabbs Greer, Aaron Spelling, Paul Birch and Robert Burton.
Stewart won the part after John Kerr turned it down because he disapproved of Lindbergh's pro-Nazi sympathies and his racist and anti-Semitic views.
© Derek Winnert 2016 Classic Movie Review 3927
Check out more reviews on derekwinnert.com