The Spider Woman Strikes Back *** (1946, Gale Sondergaard, Brenda Joyce, Rondo Hatton, Milburn Stone, Kirby Grant, Hobart Cavanaugh) – Classic Movie Review 3446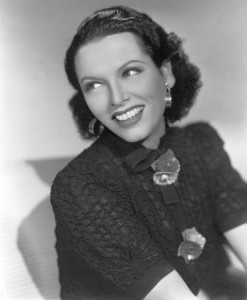 Director Arthur Lubin's 1946 in name-only sequel sees Gale Sondergaard re-creating her popular role from 1944's The Spider Woman (aka Sherlock Holmes and the Spider Woman). But there the resemblance ends. This horror thriller follow-up has no relation to The Spider Woman, with Sondergaard playing a completely different character.
Brenda Joyce co-stars as Jean Kingsley, who soon pays for her foolishness in asking the apparently blind spooky old Zenobia Dollard (Sondergaard) for a job in a remote country house. She goes to work as live-in caretaker for the woman. First she's nearly scared out of her wits by deaf-mute Mario the Monster Man (Rondo Hatton). Then she is drugged so that Sondergaard's Zenobia can experiment on her insects at night. Zenobia drains some blood from her every night to feed her strange plants.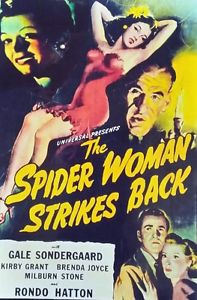 There is an eerie atmosphere and a few shocks though no real surprises in Eric Taylor's exotic original screenplay. The film remains amusing though, thanks to the menacing Sondergaard, the Universal studio's careful production and Arthur Lubin's painstaking direction.
Also in the cast are Milburn Stone, Kirby Grant, Hobart Cavanaugh, Norman Leavitt, Tom Daly and Lois Austin.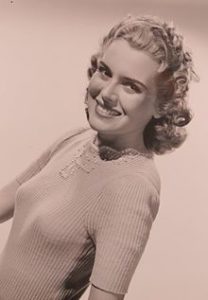 Brenda Joyce (February 25, 1917 – July 4, 2009) went on to be Tarzan's mate Jane in five movies, starting with Tarzan and the Amazons (1945) and ending with Tarzan's Magic Fountain (1949), after which she quit films.
© Derek Winnert 2016 Classic Movie Review 3446
Link to Derek Winnert's home page for more reviews: http://derekwinnert.com/