The Sound of Music ***** (1965, Julie Andrews, Christopher Plummer, Eleanor Parker, Peggy Wood, Charmian Carr, Daniel Truhitte, Nicholas Hammond, Richard Haydn, Anna Lee) – Classic Movie Review 57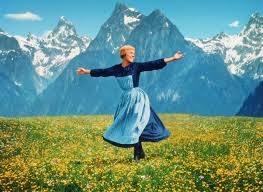 The hills are alive… Is this the world's most popular musical? Maybe it is!
The Tony award-winner for Best Musical became the Oscar-winner for Best Film. The original Broadway production opened in November 1959 and ran for 1443 performances. The movie just goes on to enchant family audiences now and for ever. Its soundtrack has sold 11 million copies.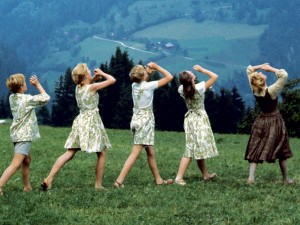 Bubbly Julie Andrews effervesces in the role she'll always be remembered for (along with Mary Poppins) as the singing nun Maria in the gathering storm era of pre-World War Two Austria in this five-Oscar-winning movie, first enjoyed, then derided as saccharine, but now a legend.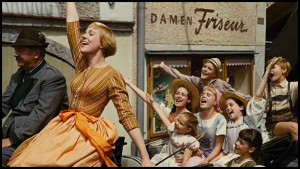 Given a push by the Mother Superior (Peggy Wood, replacing a sick Jeanette MacDonald) who tells her to climb every mountain, Maria decides to leave her convent to become a governess in the employ of a handsome but frosty naval officer, who's come to the convent in desperation to find a nun for that very purpose, all previous workers in the house having miserably failed.
Through a mix of charm, resourcefulness and guile (and singing, of course), Maria doesn't take too long to melt the stern, upright widowed Admiral Von Trapp (Christopher Plummer) and tame his seven naughty, unhappy children. Romantically, though, Von Trapp is otherwise engaged because he has a fiancée, the Baroness Elsa Schraeder, played by Eleanor Parker.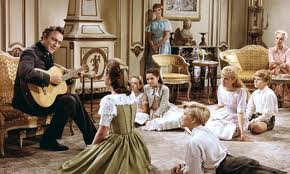 This is a quite spectacular and incredibly polished transfer of the long-running stage show to the screen, opening it out in a cinematic and exciting fashion. Schmaltzy, sentimental and unashamedly romantic as it is, the infectious entertainment value piles up high thanks to the involving, unique story, famous evergreen tunes (with music by Richard Rodgers and lyrics by Oscar Hammerstein II), the breathtaking location work on scenery in the Austrian mountains and in Salzburg (a three-month shoot), the cast's impeccable professionalism and the firm, decisive grip of director Robert Wise.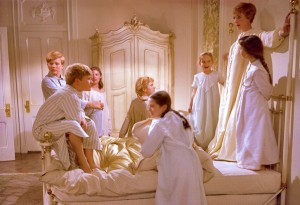 It's easy to underestimate the skill with which this is made and it's just as easy to sit back, relax and enjoy it. There are no hiccups in a vintage, old-style Hollywood production, with the professionals working in top gear. Ernest Lehman, screen-writer of North by Northwest, wrote the polished, word-perfect screenplay.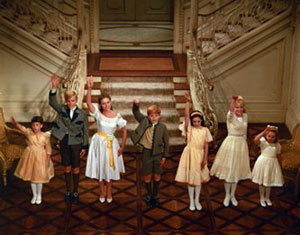 It's impossible to imagine anyone better, or indeed anyone else in the role of Maria than Andrews, kicking up a storm both on the singing and acting fronts, and Plummer's perfect too (though his vocals are dubbed by Bill Lee, even after he recorded his songs). Marni Nixon, famous for dubbing the vocals of Audrey Hepburn in My Fair Lady, Deborah Kerr in The King and I and Natalie Wood in West Side Story, gets a small role as Sister Sophia.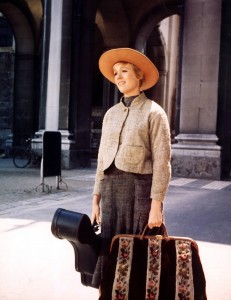 The story is taken from the WWII life of the Von Trapp family who successfully fled from the Germans across the mountains to safety in Switzerland and later America. The Von Trapp children complained that real life father wasn't stern, and Maria asked for a change in the film portrayal of her husband but Wise refused to budge.
Mainly acknowledging the technical achievement and the film's popularity, the Oscars were awarded for best picture, director, score adaptation (Irwin Kostal), sound (James P Corcoran, Fred Hynes) and editing (William Reynolds). Andrews was nominated, but didn't win, a year after winning for Mary Poppins.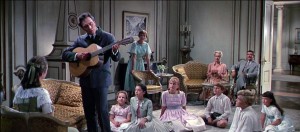 All the songs 'Climb Every Mountain (sung by Peggy Wood but dubbed by Margery McKay)', 'How Do You Solve the Problem of Maria', 'Do Re Mi', 'My Favourite Things', 'Sixteen Going On Seventeen', 'The Lonely Goatherd', 'Edelweiss' and the title tune come from the stage show. 'I Have Confidence' and 'Something Good' were written specially for the movie by Rodgers and 'An Ordinary Couple' was dumped for 'Something Good'. Subsequent stage versions have followed the movie songs.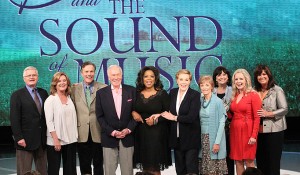 Shamefully, Time Out used to credit the director as Robert Silly in their movie listings. Mia Farrow's failed screen test for the film still survives. Liesl and Rolf are supposed to be Sixteen and Seventeen, but Charmian Carr and Daniel Truhitte who play them were 23 and 21.
Nicholas Hammond (the eldest son Friedrich) grew six inches during the shoot. At the start he wore heel lifts, but at the end he had to be shoeless while Charmian Carr stood on a box. Hammond went on to become famous as Spider-Man/Peter Parker in the 1977-79 TV series The Amazing Spider-Man, the first actor to play Spider-Man in a live action production. He has remained close friends with all his film siblings, especially Carr, who runs an interior design business, Charmian Carr Designs, in Encino, California.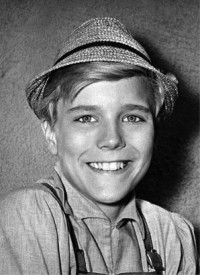 'Edelweiss' was Hammerstein's last work before his death in 1960. The Von Trapp home in the film actually belonged to Hedy Lamarr. The UK has greatly enjoyed gay-inspired Sing-A-Long-Sound-of-Music performances.
Regretting he didn't make The Ipcress File instead, an unhappy Plummer called it 'The Sound of Mucus' but has remained friends with Andrews despite saying working with her was like 'being hit over the head by a big Valentine's Day card every day.'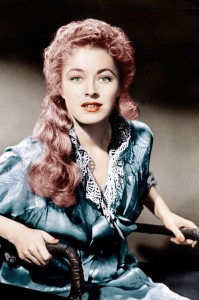 Eleanor Parker, best remembered for playing the Baroness Elsa Schraeder the rich woman who loses the love of Captain Von Trapp to Maria, died in December 2013, aged 91. Parker won three Oscar nominations in six years, as a naive 19-year-old who transforms into a hardened convict in Caged (1950), as Kirk Douglas' wife with a secret in William Wyler's film noir Detective Story (1951) and as real-life Australian opera star and polio victim Marjorie Lawrence in Interrupted Melody (1955) opposite Glenn Ford.
aged 73. She was named after one of Cleopatra's maids in Shakespeare's Antony and Cleopatra.
http://derekwinnert.com/mary-poppins-classic-film-review-305/
http://derekwinnert.com/interrupted-melody-classic-film-review-494/

(C) Derek Winnert 2013 Classic Movie Review 57
Link to Derek Winnert's home page for more film reviews: http://derekwinnert.com/