The Sorcerers ***½ (1967, Boris Karloff, Catherine Lacey, Ian Ogilvy, Elizabeth Ercy, Victor Henry, Susan George) – Classic Movie Review 4440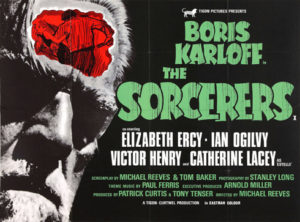 Co-writer/ director Michael Reeves's gripping 1967 British horror movie stars Boris Karloff as nice hypnosis scientist Professor Marcus Montserrat and Catherine Lacey as his wicked wife Estelle who invent a long-distance hypnosis machine and involve young Mike Roscoe (Ian Ogilvy) in their shenanigans.
The machine allows them to experience their victims' sensations, and they get Ogilvy's Mike to live out youthful sex and violence excitements. Reeves and writer/ cinematographer Tom Baker's tremendous, if gruesome fantasy screenplay (from a story by John Burke) is packed with clever ideas. It is imaginatively realised on screen by the 23-year-old Reeves, who sadly made only one more film – Witchfinder General – before his tragic death at 25 on from an accidental barbiturate overdose.
A British DVD release in 2002 shows this fine chiller's continued power.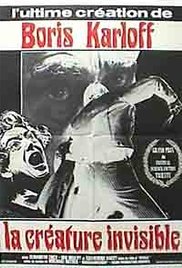 Also in the cast are Elizabeth Ercy, Victor Henry, Susan George, Dani Sheridan, Ivor Dean, Peter Fraser, Bill Barnsley, Maureen Booth, Gerald Campion, Toni Daly, Peter Fraser, Alf Joint, Martin Terry and Meier Tzelniker.
After this and Chitty Chitty Bang Bang, Gerald Campion (50s TV's Billy Bunter), who can be seen here briefly as a customer in the china shop, started a new career as a restaurateur.
© Derek Winnert 2016 Classic Movie Review 4440
Check out more reviews on http://derekwinnert.com