The Son of Spartacus [l Figlio di Spartacus] [The Slave] ** (1962, Steve Reeves, Jacques Sernas, Gianna Maria Canale) – Classic Movie Review 6106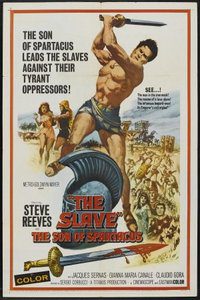 Producer-director Sergio Corbucci's 1962 Italian adventure epic stars the over-gymed-up muscleman Steve Reeves as the decurion Randus, the slave son of the legendary Spartacus and Varinia, who sets out to avenge himself for his father's death. He is promoted to centurion by his commander, Gaius Julius Caesar, and sent to Egypt to uncover secret plots, but Randus plots a slave revolution against by the wicked ruler Cesare Grassus (Claudio Gora).
It may be just another fairly simple-minded Sixties Steve Reeves spaghetti muscleman epic, but it is well set up, and quite carefully made and it looks good in Metrocolor, though the script and performances are on the inanimate, or at least unanimated side.
Also in the cast are Jacques Sernas as Vetius, Gianna Maria Canale as Claudia, Ivo Garrani as Julius Caesar, Enzo Fiermonte, Ombretta Colli, Roland Bartrop, Franco Balducci and Renato Baldini as Verulus.
It is written by Adriano Bolzoni, Bruno Corbucci and Giovanni Grimaldi, shot in widescreen by Enzo Barboni, and scored by Piero Piccoini.
It was shot in Rome and Cairo.
© Derek Winnert 2017 Classic Movie Review 6106
Check out more reviews on http://derekwinnert.com