The Snowman ** (2017, Michael Fassbender, Rebecca Ferguson, Charlotte Gainsbourg, Val Kilmer, J K Simmons) – Movie Review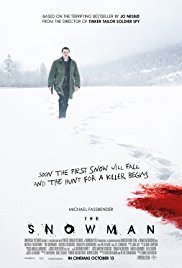 The Snowman is a disappointment, not a disaster. It's okay, it passes the time, but much more is needed. The problems are the story lacks credibility and there's no chemistry between Michael Fassbender and his two leading ladies, Rebecca Ferguson and Charlotte Gainsbourg. All three are very talented, indeed special talents, so what has gone wrong there?
Maybe it is the tricky roles they have to play, so awkwardly written and developed. There's no impression any of these people care for each other, and that is a problem. Playing the drunken, sleep-deprived Oslo, Norway police detective Harry Hole, Fassbender is so dour and low key that he fails to light up the screen as he usually does. It is a dull performance.
Then again, the Val Kilmer and J K Simmons characters are a complete waste of time, defying these welcome actors. Chloë Sevigny, James D'Arcy, Adrian Dunbar, and even Toby Jones are also similarly struggling. Oh dear!
On the plus side, it looks great and is vaguely involving throughout, with always the promise of it getting better, at least till the letdown finale and villain revelation. Maybe part of the trouble is Jo Nesbø's generic feeling serial killer plot. It just doesn't feel right. It feels artificial, a literary concoction, way away from the reality that the movie presents so well in its extremely striking location work in Norway. The plot plays like a low-grade Agatha Christie. Hercule Poirot could have cleared this up in a flash, and so much more entertainingly, with his leetle grey cells. Harry Hole's cells have been numbed by drink, and that makes for a boring, unanimated character on screen.
Nevertheless, The Snowman is thoroughly professional, with good work on direction, score and editing, so director Tomas Alfredson doesn't have to get too worried or too defensive. Candidly explaining the film's failure, Alfredson complained that he wasn't able to film 10 to 15 per cent of the script. Does that mean that I can have 10 to 15 per cent of my money back?
© Derek Winnert 2017 Movie Review
Check out more reviews on http://derekwinnert.com/