The Slender Thread **** (1965, Sidney Poitier, Anne Bancroft, Telly Savalas, Steven Hill, Edward Asner, Dabney Coleman, Paul Newlan) – Classic Movie Review 5037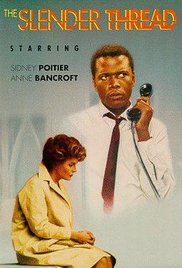 Director Sydney Pollack's auspicious 1965 feature film début stars Sidney Poitier as Alan Newell, a Seattle college student volunteering at a crisis centre as a telephone social worker. The film was nominated for two Oscars – Best Art Direction-Set Decoration, Black-and-White and Best Costume Design, Black-and-White (Edith Head). More importantly writer Stirling Silliphant was Golden Globe nominated for Best Screenplay.
One night at the clinic alone, Alan gets a phone call from a woman who says she needs to talk to someone after taking an overdose of pills. So Alan tries to dissuade suicide caller Inga Dyson (Anne Bancroft) from killing herself as the cops (Edward Asner as Detective Judd Ridley, Paul Newlan as Sergeant Harry Ward) seek to find her whereabouts in time.
This satisfying movie is an extremely decent, intelligent, heart-tugging drama, solidly crafted, well written by Stirling Silliphant (from an article by Shana Alexander) and extremely well acted.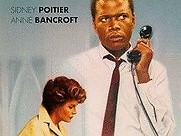 It is also the feature film début of Dabney Coleman. Telly Savalas, Steven Hill, Indus Arthur, H M Wyant, Robert E Hoy, Greg Jarvis, Jason Wingreen, Marjorie Nelson, Steven Marlo, Thomas Hill, Lane Bradford, Janet Dudley, John Napier, Stephen Pellegrini, Jerome R Brand, Kay Doubleday, Jo Helton, Richard Doorsish, George Savalas, Charlotte Stewart and Viola Harris.
It runs 98 minutes, is produced by Athene, is distributed by Paramount, is hot in black and white by Loyal Griggs, is produced by Stephen Alexander, is scored by Quincy Jones, and is designed by Hal Pereira and Jack Poplin.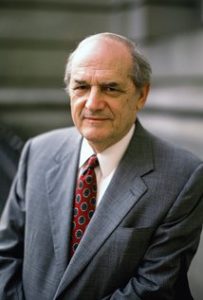 Steven Hill died on 23 age 94. He worked right up to 2000, on the Law & Order TV series.
© Derek Winnert 2017 Classic Movie Review 5037
Check out more reviews on http://derekwinnert.com