The Singer Not the Song ** (1960, Dirk Bogarde, John Mills, Mylène Demongeot) – Classic Movie Review 5171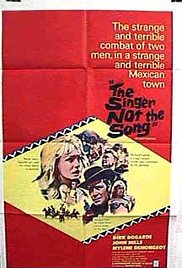 Crazy miscasting bedevils director Roy Ward Baker's magnetically ridiculous British 1960 Freudian romantic adventure based on Audrey Erskine-Lindop's novel. Alas, it has over-reaching ambitions and its serious nature and high-minded intentions only serve to make things worse. It's one of those train wreck movies it's hard to take your eyes off.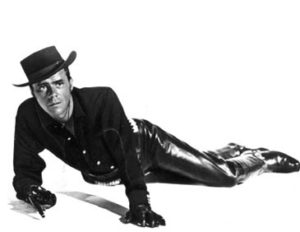 Dirk Bogarde poses and postures absurdly as Anacleto Comachi, a black-leather-clad Mexican bandit who has a weird love-hate relationship with the local Roman Catholic priest, Father Michael Keogh (John Mills), a surrogate father figure for him. In some ways, Mills is even more stranded, getting submerged while trying to underplay, and Mylène Demongeot is completely adrift as Locha de Cortinez, the young woman who falls in love with him.
The direction by Roy Ward Baker plods conscientiously along, paying too much attention to his struggling actors and dreary, pretentious dialogue, and letting the running time drift to extraordinary over-length of 132 minutes when 90 minutes would do.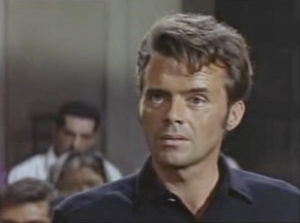 With Bogarde is his leathers, there is a bit of fun to be had from the camp goings-on, so you can have a few sniggers at the film's expense. But no one could call it a success and time has not been kind to it, either.
John Mills recalled: 'We shot the film in a beautiful Spanish village. The villagers really believed I was a priest and I hated to disabuse them. Marlon Brando was going to play the other lead but he walked away and Dirk Bogarde replaced him at the last minute. He, of course, was rather miscast as the tough, leather-clad baddie.'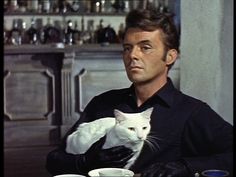 With Brando, it just might have worked, but then he wasn't that convincing as a tough, leather-clad baddie in The Wild One (1953). On reflection, it must be the only time Bogarde replaced Brando.
Also in the cast are Laurence Naismith, John Bentley, Eric Pohlmann, Roger Delgado, Laurence Payne, Lee Montague, Leslie French, Nyall Florenz, Philip Gilbert, Selma Vaz Dias, Jacqueline Evans, Serafina Di Leo, Eileen Way and Larry Taylor.
© Derek Winnert 2017 Classic Movie Review 5171
Check out more reviews on http://derekwinnert.com